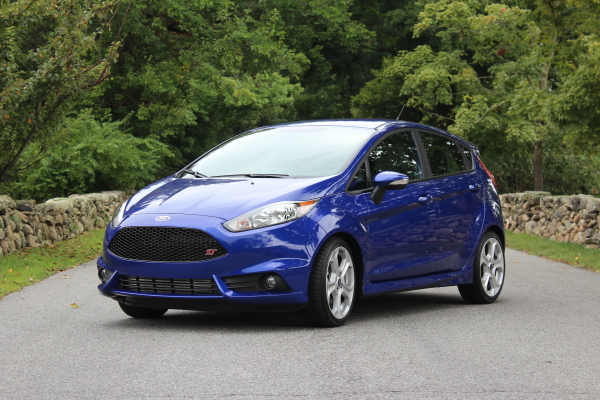 Unless you're using a series of numbers and letters for classification, I suspect the most nebulous aspect of car design is giving it a name. Those that go the specific route give us the Quattro and ForTwo, while other succeed in being evocative of the car's spirit: Viper. Diablo. Raptor. The rest? well ask yourself what was that particular Honda a prelude to, if a Buick's brilliance is worthy of the name Apollo, and did a Dodge avenge anything? It's a precarious practice, and I guess what I'm trying to ask is "does the Ford Fiesta live up to its name?"
Ford's Fiesta has cemented itself across the globe as a powerful contender in it's class, both as a hot hatch and an inexpensive 4-door. As part of Ford's movement to globalize many of their platforms, the Fiesta made it's way to North America in it's sixth generation incarnation. It has since become a go-to model for those shopping for an inexpensive B-segment vehicle. The 2014 Fiesta comes with a 1.6 liter i4 that's capable of 120 hp and 112 lb.ft. of torque. For the first time, it will also be available with a smaller 1 liter ecoboost engine.
The Fiesta ST, a joint effort from Ford Europe's Team RS and the SVT team in the United States, takes the quirky runabout and retools it with several updates, not the least of which is the 1.6 GDI ecoboost i4, now putting out 187 hp and 202 lb.ft. of torque.
Back to the question at hand: is the Fiesta the party on wheels as its name suggests? I was able to spend a lot of time with both the Fiesta and Fiesta ST this year, and these are the top 5 experiences I had.
1. Had an impromptu photo shoot with a bodybuilder on the set of Clerks.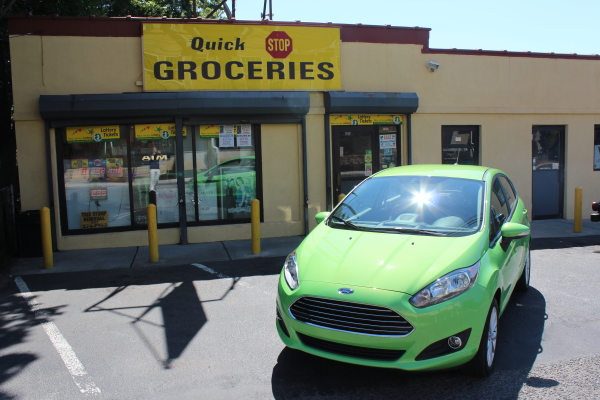 This might be a long entry and worthy of its own individual post, but I 1.) can't go on about the Fiesta ST without talking about the standard Fiesta, and 2.) this is a ridiculous story that set a precedent for the rest of the year.
Leonardo, New Jersey is a small town in Monmouth County that normally wouldn't have received national recognition of any kind if it wasn't the location for a low budget indie film that has gone beyond cult classic and landed a comfy spot in cinema history: Clerks. Kevin Smith's movie about the drudgery of working behind the counter of a convenience store has garnered a legion of life-long fans and has also made the nondescript Quick Stop, the store of Smith's townie shenanigans, a must-visit attraction. As a colleague and I were test driving the Fiesta within spitting distance of the place, and being large movie geeks in our own right, we saw no other suitable destination for our little tour of the Sandy Hook Bay area.
In the throes of our nerd mecca, a very large man uncoiled himself from the back of a parked Jeep and approached us, asking our business in town, to which we replied our intent to test drive the Ford, see the spot from Clerks, and not get punched in the face by any locals. He then excitedly asked if he could take his shirt off and pose for our cameras. What, were we gonna say no?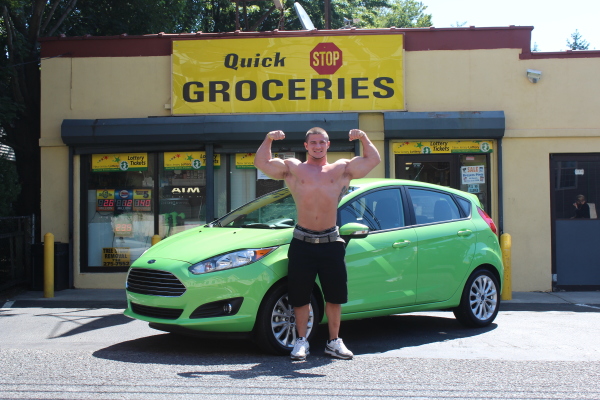 This fine gentleman turned out to be a bodybuilder, according to his entourage, holding the title "Mr. New Jersey." He turned out the be as kind and polite as he is ripped, and my first 20 minutes of being in Jersey that day consisted of a photoshoot with Mr. New Jersey in front of the Clerks Quick Stop with the new Fiesta. You can't plan these things. (subsequently, if you're reading this, Mr. Jersey, I've lost your contact info and would like to give you proper recognition here. Also A few girls…and a couple guys… are dying to look you up. email me.)
After we leaned on the walls giggling, spun some eggs and drank coffee with no ice, we settle on the theme of the day and continued our pilgrimage to Red Bank, home of Jay and Bob's Secret Stash, the comic book store owned by Kevin Smith. This is the true place to "pay homage" to our cinema hero as it's Smith's east coast home base of operations, and sightings (and signings) are not unheard of. Alas, despite them assuring us they were open, the shop was off limits as an episode of Comic Book Heroes was being filmed. Along the way ( "oh right, we're test driving a car"), we mused about out dutiful ride. Little has changed on the Fiesta on this refresh, and apart from a few exterior tweaks, the major differences are an armrest and an available 6.5-inch touch screen with MyFord Touch. The interior also retains the spaciousness and comfort as before, a smooth ride that remains nimble enough, and good all-round performance for a car in this category. It's small, its practical, and quite stylish. Bottom line, it can get the job done, and the drive was quite comfortable.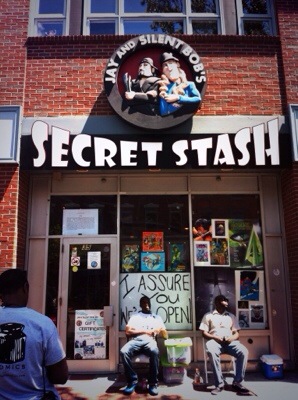 In hindsight, the guys who turned us away from the shop probably saved our asses as It suddenly occurred to us that our ferry back to New York was departing shortly. This is when we became keenly aware of the Fiesta's potential. Darting back to the marina, we squeezed as much performance out of the 1.6 i4 when we could, and while something with more straight-line speed would've been better, the local town roads made nimbleness an advantage over power. We made it back just in time, and we left New Jersey with love for the Fiesta and the adventure it took us on.
2. Did an autocross in the CitiField parking lot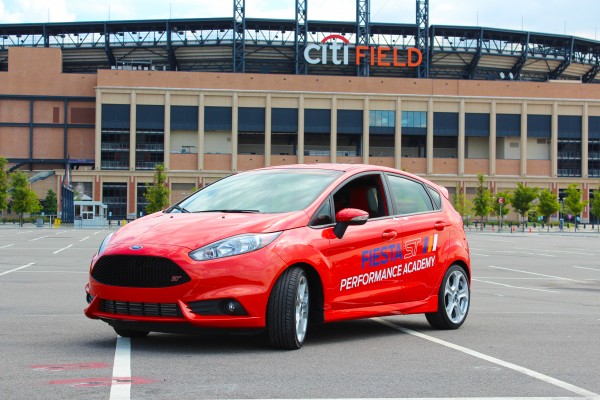 We were bitten by the ST bug the year before and ever since, we wondered what would happen if and when the Fiesta got the same treatment. In truth, we all saw it coming, but we were excited nonetheless. A combined effort of Ford's RS team and the SVT team in the U.S., the Fiesta ST was in the hands of those who knew how to make a fast, fun Ford.
Like the previous year with the debut of the Focus ST, Ford gave anyone who wanted one a chance to spend a little wheel time with their performance cars with the return of the ST Performance Academy, a nationwide tour that let enthusiasts take the Focus and Fiesta ST. No tickets to buy, just a little bit of chalk talk, and you were set to take either through a couple laps of an available autocross.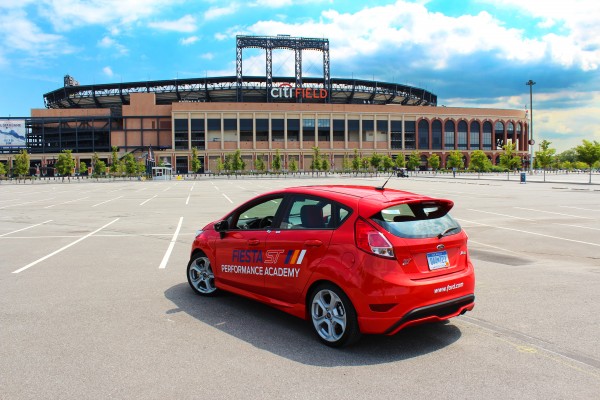 This time being held at Citi Field, myself and a few other journalists went to check it out the day before it opened up for the public. My reasons for going were to both try whipping around the Fiesta ST for the first time, and to support the ST Performance Academy experience. It's a great opportunity to try out a brand new car and make your own opinion of it, give it the beans on a closed course, and get some insight from driving instructors. It's brief, but the crash course in spirited driving they give you is worth its weight in gold.
The Fiesta ST carries over the same updated exterior tweaks as the standard, but also throws in a rear diffuser, custom side skirts and a spoiler. The front bumper is also given an ST specific flair, and the trapezoidal grille has its slats replaced for a honeycomb mesh. The Fiesta ST also gets 17-inch alloys thrown in plus twin exhausts. Coincidentally, two of the unique color options are Molten Orange and Spirit Blue, which I'm sure our hosts appreciated.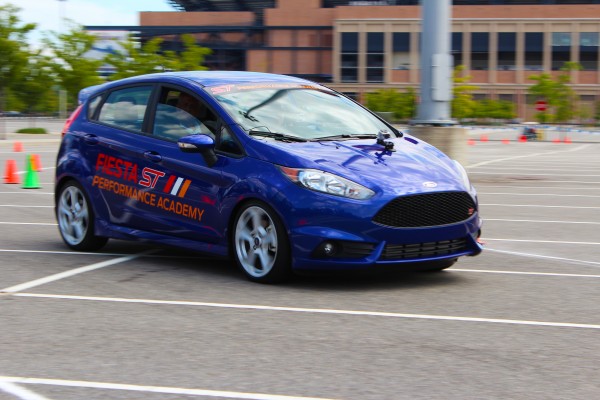 The autocross arranged is a short one, but with enough tricks to keep you engaged. Our runs were timed, and while I'm tempted to put up the picture of the timing board that shows me on top, I don't want to embarrass the other people there….who later trounced me and pushed my time way, way down.
The Focus was also on hand, same as before, so we were able to do side by side drives. Surprisingly, the Fiesta ST, with about a hundred less horses and 50 or so fewer ft.lbs. of torque was out dancing the Focus through the cones, putting up faster times almost every time. This was to be expected as the chassis was developed for better steering precision and body control. For instance, the whole thing has been dropped 15 millimeters and new, shorter front knuckles, makes the steering ratio quicker.
To be fair, a narrow autocross where you wouldn't go higher than second gear plays to the strengths of the smaller, lighter car and not giving the Focus a chance to give it it's best shot. You could easily imagine, then, that the more powerful focus would dominate the Fiesta on the road, if they were put head to head. There was really only one way to settle it.
3. Shootout with the Focus ST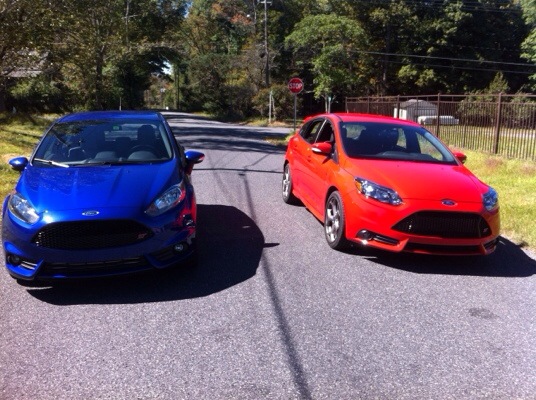 The words "wanna race?" get me into all sorts of trouble. I suddenly find myself somewhere upstate, where a long, one lane road cuts through a rural landscape, and I'm chasing a Focus ST. By all accounts it should've been further ahead of me than it was, and indeed, on some of the straighter lengths, it took a few large bounds forward, but the plucky Fiesta put up more than a good fight. There's plenty you can do with the 197 hp the 1.6 ecoboost gives you to play with. a 0-60 in 6.9 seconds isn't fantastic, but the engine is extremely responsive. Also largely in play was the torque vectoring control that gives both the Focus and Fiesta the ability to take corners quickly, braking the inside wheels when it senses that understeer might be an issue.
We reach the end of the road, and now it's my turn to be chased, and as playful as this was, it didn't diminish the anxiety of my animalistic flight response. I even started thinking like prey, considering the turns I know I can take faster so I could plant my foot through the stretch immediately after. The end result was that the Focus ST was victorious, but by a very slim margin, but I feel like i would still choose the Fiesta if I had a chance to repeat the experience.
4. Befriended a horse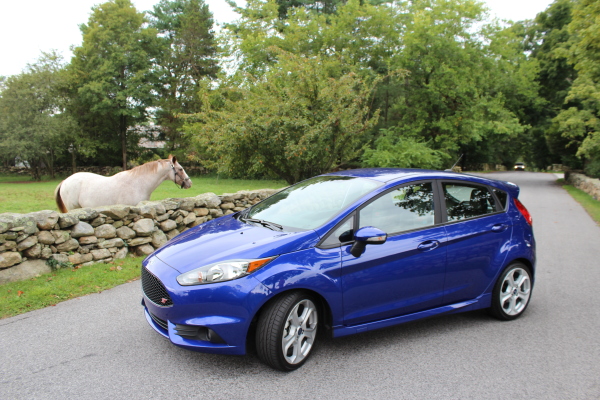 That's all, just met this horse. Drove it to Westchester whereupon he joined me for an impromptu photo shoot. Between this guy and Mr. New Jersey, the folks at Ford expect my next shoot to include a giraffe.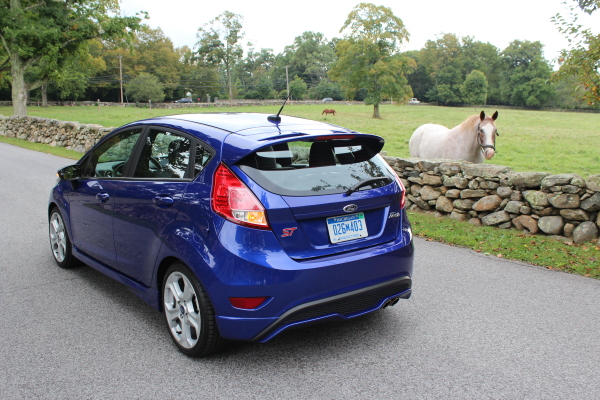 It's on this trip that I struggled to wrap my head around the fun factor this car has so much of, as well as also forcing me to consider the realities of it t the same time. Why is this car so enjoyable? it's not the best handling or the fastest, but there's this element of wackiness about it thats impossible to ignore. It feels like it's way more capable than it should be for such a small car, and you whizz by other cars in traffic snickering, like you've snuck a high performance car into an a-segment economy car, and the joke's on everyone else.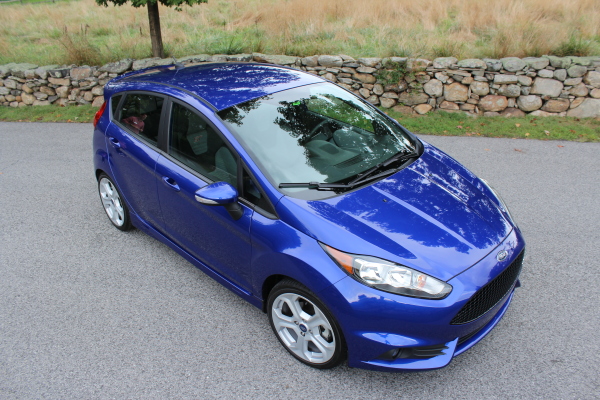 Like the most raucous party or wild vacation, though, the real world creeps back in and takes some of the wind from your sails. After an extended journey, the Recaro seats became unbearable. You can't ask for better when driving for results, but on a road trip, particularly for the passenger, they get pretty irritating. There's also the cost. The $22,195 MSRP starts to take away the attraction of shopping for a car in this segment, regardless of all the extras. It also puts it in the crosshairs of a few heavy hitters, like the Mazda6 and Scion FR-S, both sporty and affordable cars in their own right. For the Money, I feel like some moms will be talking their youngsters into perhaps considering a base model Fusion while at the dealership.
5. Took hot laps on a race track
It's the end of the year, and I'm at Monticello Motor Club where there's a few things on hand for me to take on their wonderful track. Usually, this trip lets me cut loose with some cars I've only driven on public roads, so here, on this closed course, I often find new love for something I might have dismissed during daily driving because I wasn't using it to its fullest potential. This time, though, I come once more to the Fiesta ST. I don't have to take it out there, I know I love it already. I've spent a year loving how much fun it has to share. People walk by me asking about it, and I'm enthusiastically imploring them to take her out in the hopes that they get one screed of the same enjoyment as I had.
Then again, I say to myself, it's here and there's a track for me to use. I grab a helmet and climb in, and I am not disappointed.
AutoKinesis Car of the year. Hands down.
Words and Photos by: Alex Kalogiannis