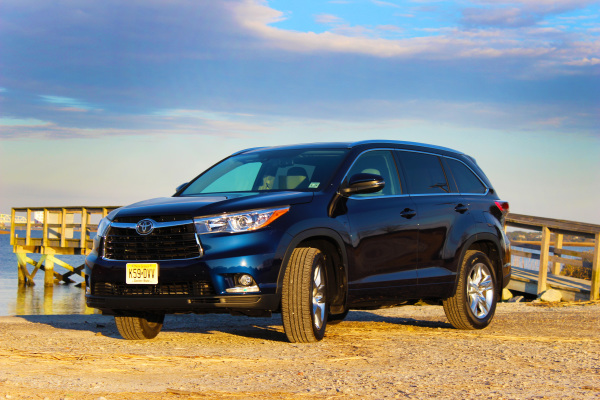 Sometimes you visit a town and you don't have time to really absorb all it has to offer. Sometimes, circumstances like the weather and a couple airports repeatedly closing and reopening force you to stay and look around a bit. I got to know Charleston, South Carolina quite intimately, and I had Toyota's new Highlander on hand for the tour.
The Highlander is the third generation of Toyota's mid size CUV that comes with a 2.7L 4 cylinder or 3.5L V6 capable of 270 hp, as well as a hybrid configuration that produces a net 280hp. It's available with AWD or FWD, the hybrid being exclusively all wheel drive.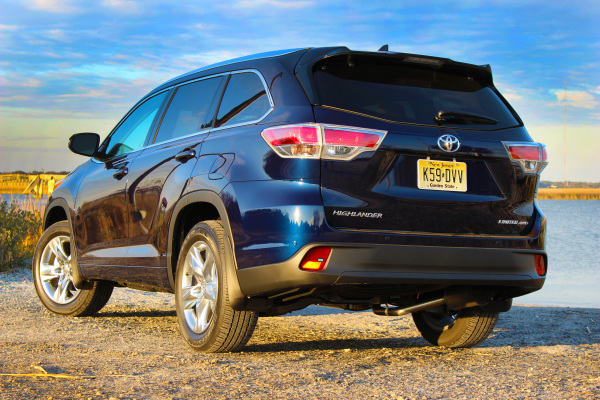 Being "stuck" in the Market Pavilion Hotel is hardly a reason to complain. A gorgeously appointed hotel with one of the most renowned steakhouses, if you can bring yourself to leave, the Market Pavilion is an excellent rallying point for taking in a much of historic Charleston as possible. For the Journey, I have on hand the latest generation Toyota Highlander, the crossover vehicle for active families, a troupe of Muppets, or individuals looking for something spacious that offers a little more capability than a car without going full SUV.
Toyota has smoothed out much of the front of the Highlander, which now centers around a large trapezoidal grille, to which the headlights cleanly beset. The rest of the car follows suit, smoothing out and simplifying many of the lines, and giving the highlander a more solid, beefier look. The refinement goes past just aesthetics. Much of the body components have been optimized for smoother aerodynamics, which will mostly be noticed at fill-ups.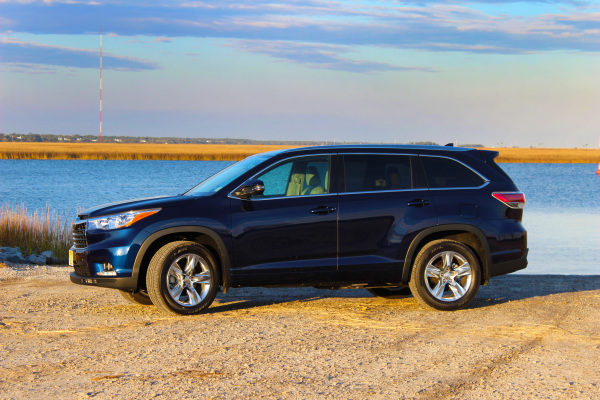 Myself and an accompanying journalist being our trek out to Fort Moultrie, which is deeply rooted in Charleston's historical foundation, resisting bombardment from British ships while it was little more than a pile of palmetto logs during the Civil war. It's meager structure proved to be more than sufficient, and with further development, became an important structure for coastal defense well into the second world war. The Highlander is similar in that it rests on the versatile Camry platform which sees duty in many cars in Toyota's lineup. This might be off-putting got those who are looking for something a little more rugged and truck-based, like the 4Runner, but for those who aren't really concerned with off road conditions, the Highlander is quite capable. The Highlander does offer a 2.7L 4 cylinder for it's base LE model, but the CUV is really meant for the 3.5L V6, which produces 185 hp an 184 ft. lbs. of torque. It's all routed through a 6 speed automatic that offers a host of logic controls to maximize efficiency.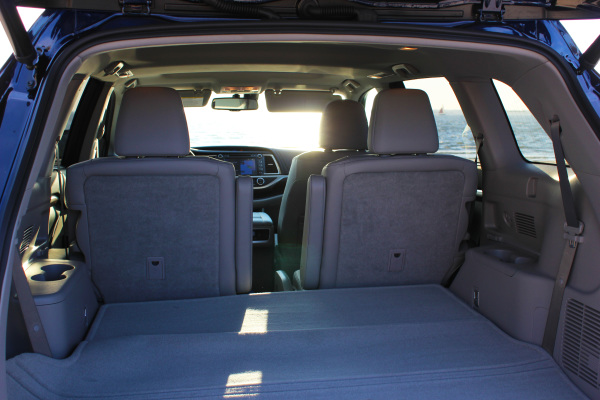 We're rushing to take in attractions as the town prepares to shut down for the oncoming polar vortex. Our respite from the bitterness outside is the interior of the crossover. For something that means to be an alternative of a minivan without going full SUV, the Highlander does a surprisingly good job of maximizing interior space. Standard seating is available for 8 throughout the trims, and on the higher ones, the second row can be replaced with two captain's chairs, so you lose the capacity for one person, but the two who score those seats will ride in serious comfort.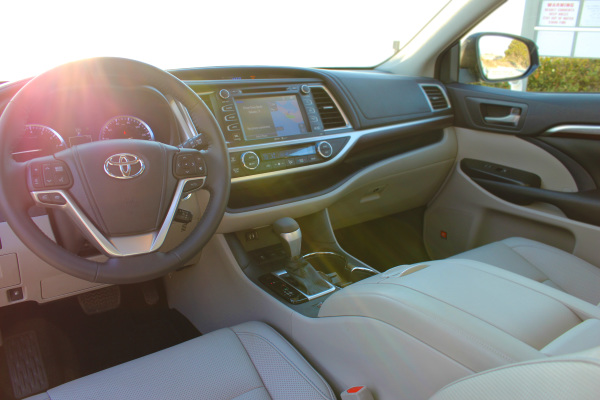 For those up front, the Highlander's dashboard received the same smoothing out treatment as the exterior. Everything is neatly arranged around the Entune audio system, with the climate control located directly beneath. underneath both is a storage shelf that runs the length of the dash and is a handy storage sport for phones and iPods and such. There's a pass-through for wires that leads down to a USB and a 12V for charging, which is handy, but a second USB would be handier. if you don't have a car adapter, you're hard pressed to find another USB port anywhere in the cabin. The pass-through also has a little plastic wire management accessory, but realistically, thats just an extra thing to be lost in one of the many storage compartments.
Speaking of storage, the center console is cavernous enough to fit 38 soda cans, which is convenient for taking a car load of people on long journeys, just plan to stop a lot. This is of course just one application of the storage space. Realistically, it makes a convenient spot for a large purse that's in reach when you need it, making finding a spot for it one less thing to worry about when lugging kids and cargo back and forth.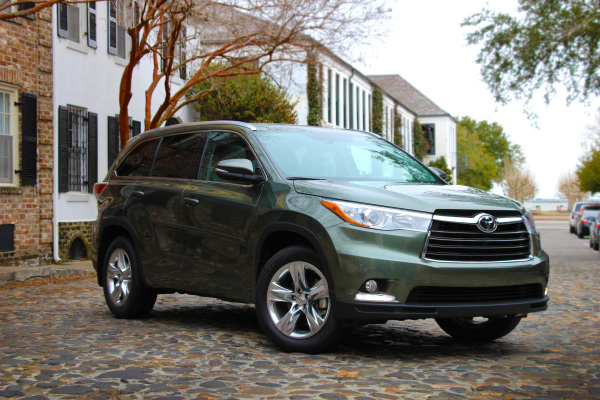 The FWD system handles adequately regardless of the length of the Highlander, though you will feel a little torque pull when the foot is planted. the AWD is much more accommodating, offering dynamic torque control to balance power between the front and rear wheels. You can also lock the power to an even 50-50 split. It all rides on macpherson struts in the front, and double wishbones in the back, paired with stabilizer bars.
What all this culminates is a very smooth and quiet ride that delivers on the promise of moving people with ease, outside of any significant terrain issues. We didn't encounter much in the way of snow, but I would be confident taking the AWD out in the event of inclement weather. I can picture 3 or 4 additional rear passengers riding in relative comfort, but I expect 7 or 8 to be more for unavoidable transport situations. The captain's seats in particular are the best seats in the house, sporting a cup holder and tray that can fold away when not in use.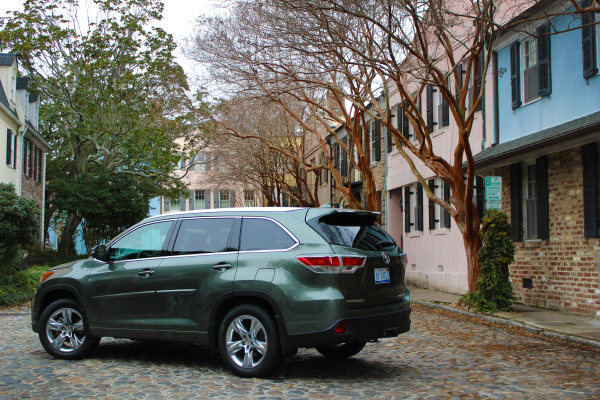 The big issue with the CUV segment is that it is a deep morass of vehicles that bat around the same average as far as fuel economy and available cargo space. The vehicle most likely to challenge the Highlander (outside of other Toyota vehicles) would be the Ford explorer, both of which run pretty close to each other for most of the numbers, including a bottom line so close, it makes little difference. Both are car-based platforms with beefed up exteriors, and engines that tout decent mpg for a car its size. Where they Highlander slightly edges out the Ford is the slight edge in fuel eco (19/25 city/highway for FWD with the V6), but the Explorer ekes out 20 more horses.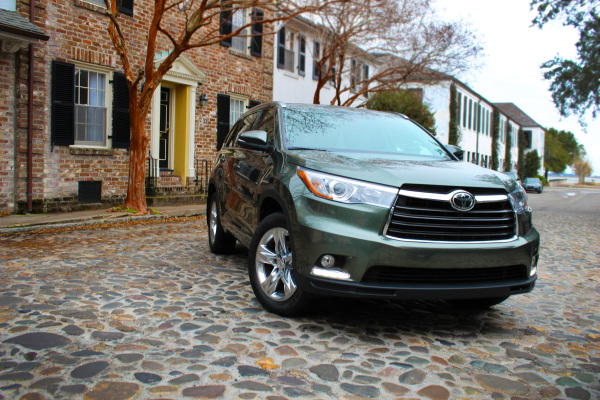 There is a hybrid version that's just hitting showrooms now, which comes exclusively in an AWD configuration that gets a net performance total of 280hp, and its fuel economy is said to be 27/28 city/highway. expect price negotiations to start at $47K for this package.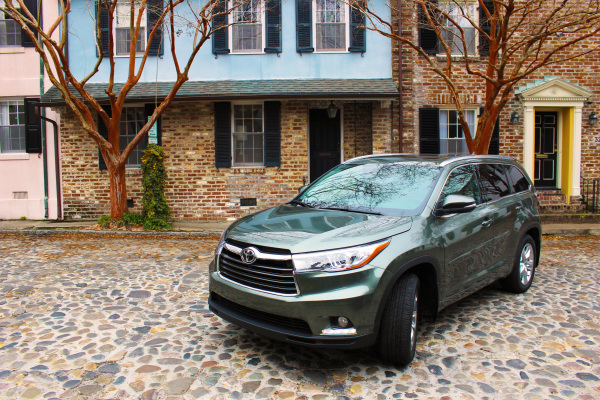 It's not hard to imagine that the Highlander will continue to be a top contender in it's segment, however it's a grouping that doesn't dazzle with the usual tricks like massive performance and handling. CUV's get scored on technical points, and for the most part a lot of them do everything they set out to do well, it's the ones who stick the metaphorical landing the best that get the accolades. The highlander continues to improve on these technicalities, and with this bolder look, becomes the best version of the highlander so far.
-Promiscuous Data-
Curb Appeal: Beefier, rugged looks make the highlander something your kids don't mind being picked up in.
Notable Rival of the Week: A polar vortex, Charleston's lack of runway ice clearing abilities, fighting the urge to use any Highlander quotes and allusions.
Price and Availability: $29,215 for the base LE, $39,640 for the Limited, $47,300 for the Hybrid limited. Currently available in dealers with the Hybrids just becoming available for February 2014.
Fuel Eco: (city/highway/combined) 2.7L 4 Cylinder: 20/25/22, 3.5L V6 FWD: 19/25/21, AWD 18/24/20, Hybrid Limited 27/28/28
 Bottom Line: Perfectly capable family crossover that'll get you to school, sports, and road trips without any problems, just look for excitement elsewhere.
Words and Photos by: Alex Kalogiannis