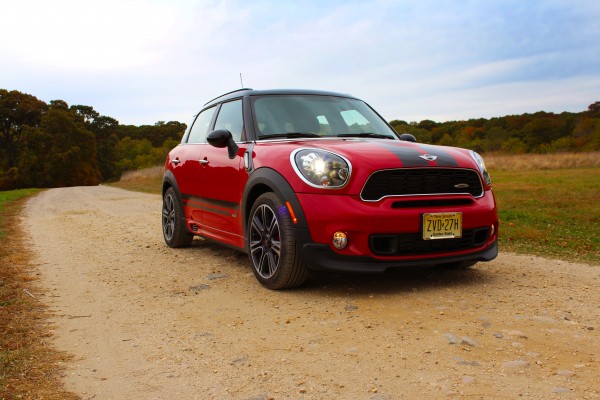 Hindsight, they say is 20/20, which is a fair enough adage if you consider the flip side of viewing the past with rose-tinted lenses. This is the difference between remembering how much you loved wearing overalls in the 80's versus seeing a picture of yourself in them as the icy touch of reality slowly strokes your spine. We've all been there, and indeed, we'll be there again. Heck, you might even be tempted to pull that acid washed number out of the basement and see if the look still holds up (protip: it doesn't). That's not to say it's a bad impulse; many styles remain classic, the trick is just sorting the fads from the things that stand the test of time. The automotive world is no exception to this, and while some car companies know how to easy it is to make wingtips work, others try desperately to bring back shoulder pads.
Talking about MINI means you have to let go of what you think is real. I know that (as of this writing) Morpheus has currently been conscripted to market an entirely different vehicle, but take his sage words to heart and forget the things you know to be true. MINI isn't mini, nor is it MINI, and I wholly realize that has yet to make sense just yet. For now, follow me down the rabbit hole to a place where size has little meaning. What you know about certain words are about to be challenged because we are in the topsy-turvy world of marketing.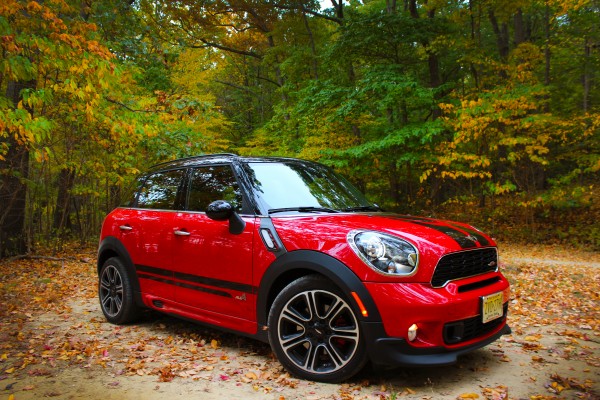 Small cars were popular across Europe in the 1940's and 50's for being both affordable and easy to drive through European towns. During this time, the Mini was born out of a particular necessity for a diminutive compact economy vehicle. Great Britain was involved in the Suez conflict in the mid 50's and a fuel shortage saw that smaller, economical cars were to be the norm for the foreseeable future. The Morris Mini-Minor was the result of this demand, but went on to be quite popular for many years beyond, due to its charm and simplicity, even seeing motor sport victories in rally racing.
Ownership of Mini changed hands many times over the course of the following decade, but the original Mini was still being manufactured till as late as 2000. The ownership then passed to BMW, but it was only the name that remained. The new MINI marque was BMW's kitschy facsimile of the original, wrapping much larger vehicles of their own engineering in faux British decoration, an exaggeration of English styles and attitudes of the 60's. BMW couldn't make the Cooper more mock-british if it ran on Bovril with a full tweed interior and the indicators flicked V-signs. The fact that it was in the third Austin Powers movie either acknowledges its awareness a full on parody of itself or is strikingly ignorant of it. Either way, it fit perfectly.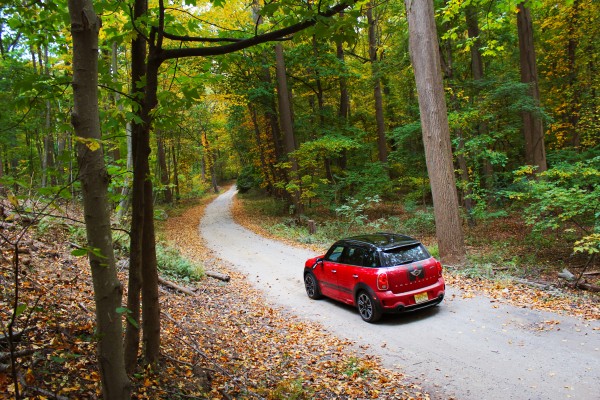 Which brings us to the MINI John Cooper Works Countryman, a sporty variant of the brand's crossover SUV. the JCW Countryman has a turbocharged, direct injection 1.6 Liter 4-cylinder engine, All4 full-time AWD system, and a 6-speed manual transmission.
Regardless of the brand message, MINIs seem to escape much of the derision that other retro-futuristically-styled cars receive. Its possible that the company injects so much quirkiness into them, you can't see the bizarre forest from the weird trees. Be that as it may, the Countryman is a mix of the familiar Mini lines translated through contemporary design, but much chunkier in comparison to the Cooper. MINI has it's own ideas of size, so in trying to adhere to their name, the CUV isn't much bigger than an average hatchback.
The JCW exterior touches do help things, making it look a little more fun than the bog standard trim. It gives the grille more snouty appearance, and this a little meaner, along with a front lip to accentuate the fascia. The stoutness does convey a certain solidity to the Countryman's appearance, making you think that maybe the paved road isn't where this car will shine. It may be rotund and slightly silly looking, but it as least it looks fun and appears to be capable.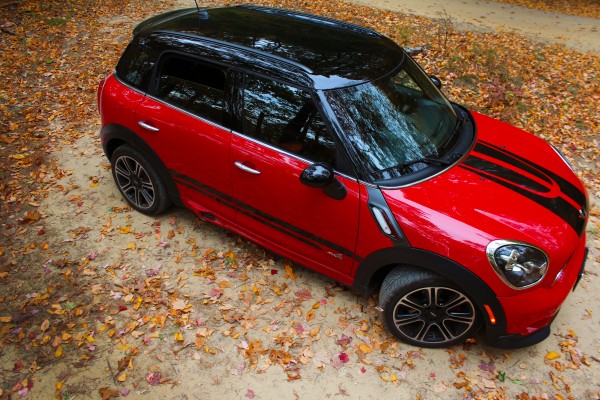 The Inside of the MINI is less defendable, however. Again, still riding the quirkiness ticket, the Countryman has all the frustratingly dated standards that have been part of the design formula from the get-go. The speedometer remains the centerpiece in the dash, convenient to no one, except maybe pedantic back seat passengers. Within the ring is the infotainment system that is non-touch screen, but is controlled by a joystick-like toggle near the cup holders. the lack of touch screen capability, combined with the 90's-esque graphics in the user interface make the inconvenient system feel very dated. It's non-intuitive design makes the infotainment system a thing to ignore.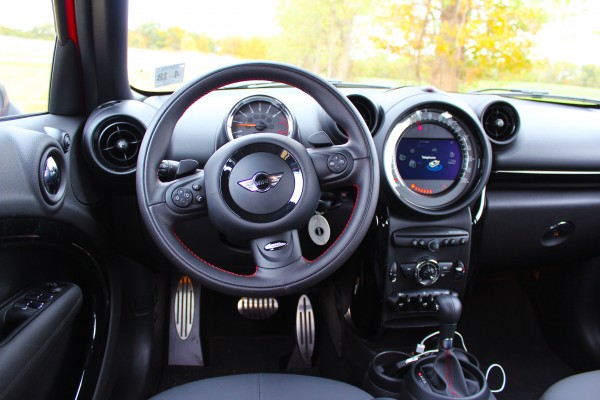 Everything on the interior suggests that designers made choices solely for the sake of being weird or different, function being an afterthought. Again, this is inherent in the MINI design DNA throughout the lineup. The key, for example, is a disk which looks like it's just a key fob. I took that to mean BMW/MINI were really committing to the proximity technology for entry and push button starts, but that isn't the case. The disk still needs to be inserted into a disk-shaped slot and then activated, so they haven't really changed or improved anything, they just lumped everything in together and turned starting the Countryman into the power-up sequence for Voltron.
Despite odd design choices, the Countryman does have a decent amount of interior volume. Only the largest of passengers would feel cramped, and that would take some doing. The multitude of airbags located throughout are also appreciated, especially front passenger knee protection.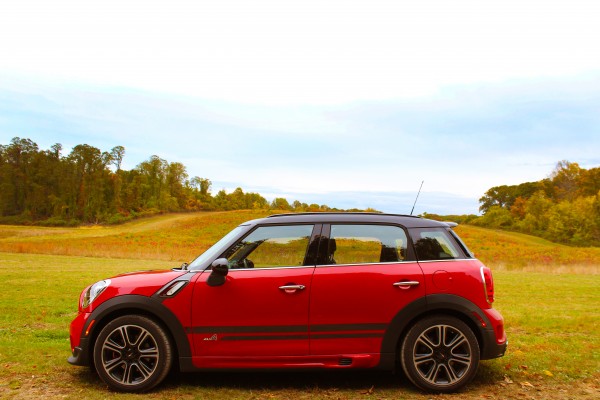 The John Cooper Work's 1.6-liter turbocharged 4-cylinder engine nets you 208 hp, which can be a sort of sporty sweet spot, if the balance is right. I wouldn't say that was the case here, but the JCW Countryman encourages a little more of a spirited drive. the All4 intelligent all wheel drive system on the road allows the vehicle to carry itself much better than it would if it was strictly front wheel drive, and you'd be happy to have it on less than ideal conditions.
Oddly, when you take it off the pavement, the Countryman really comes alive, even for slow treks on a path. It's somehow more comfortable and confidently takes to dirt, grass and rocks. If you live in the ACTUAL country, this MINI actually seems to work, if you ignore that it looks like a lost little red riding hood that devoured grandma's basket of treats en route. The JCW gets it's own reinforced 6-speed manual which feels a little flimsy through the gates. Driving doesn't feel terribly exciting, but it feels like the car at least wants to be sporty, just doesn't quite get there.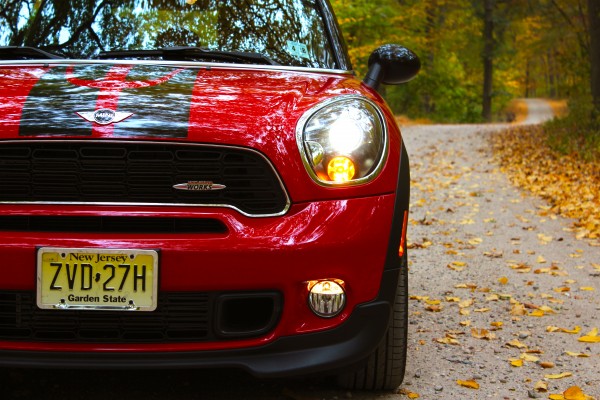 I think the main reasoning behind this is that MINI takes these cars and produces excellent rally racers. A Countryman has seen victories and podiums across the world of rally championships and even victories in the Dakar rally. We know BMW and MINI know what they're doing when it comes to engineering. That tried and true workmanship should bolster our enthusiasm for the brand, but it just falls flat in the real world.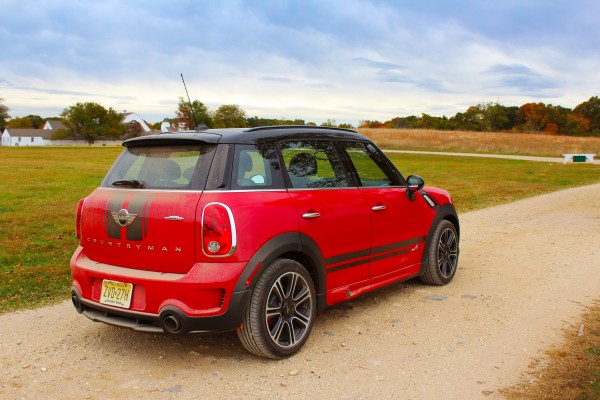 It doesn't help things that this vehicle, as tested, is priced at $38,750. For that money, you could get a Golf GTI for a much more enjoyable road experience or the new Subaru's 2015 Impreza WRX and still have money left over to load them both with extras. Both those cars will give you a better, more focused experience for what they do, and they'll even give you more convenience. If you want the best experience with the JCW Countryman, join Prodrive and get into the seat of their rally car. If you want a better, more practical and exciting day-to-day car, get something else.
I should note that as of this posting, the new Countryman, with all its variants, had just been recently announced and due to hit the market in July 2014. Upon reviewing the info, consider this to be my review of the 2014 JCW Countryman: Everything I just said, but with 10 more hp.
-Promiscuous Data-
Curb Appeal: Solid, retro-inspired offroader? or rotund ladybug? Looks will work for some while others will scoff.
Notable Rival of the Test: a certain curb. Lack of a rally special stage, but that's really more of a life issue. 
Price and Availability: MSRP starts at $35,50. Test vehicle priced at $38,750
Fuel Eco: 23 mpg city, 30 mpg highway. 26 mpg combined estimate
Bottom Line: A car that's not without its farm, but too quirky and pricey for it's own good. Good bits overshadowed by everything else. 
Words and Photos by: Alex Kalogiannis