Home » Posts tagged with » Reveal
2015 mustang \ Ford \ mustang \ mustang GT \ mustang reveal \ new mustang \ Reveal
"The wait is over" is something you'll hear a lot today. Here is the first official look at the 2015 Ford Mustang, easily one of the most hotly anticipated reveals in a very long time. This complete redesign puts to bed a generation of Mustang that kicked off in 2005 and completely changed the landscape […]
Coupe \ F-type \ F-type coupe \ Jaguar \ L.A. \ LA \ LA auto show \ live streaming \ Reveal \ streaming \ video
We are hotly anticipating the reveal of Jaguar's F-Type Coupe at this year's L.A. Auto Show, and you can join us! Watch them pull the sheet off right here at AutoKinesis at 10pm eastern (7pm pacific) and let us know what you think in the comments below.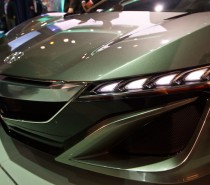 2013 Chevrolet Traverse \ 2013 Hyundai Santa Fe \ 2013 Lexus ES \ 2013 Lincoln MKZ \ 2013 Mercedes-Benz GL \ 2013 Nissan Altima \ 2013 SRT Viper \ 2014 Chevrolet Impala \ Acura NSX Concept \ announcement \ Bentley Continental GT/GTC V8 \ BMW M6 Coupe \ Chevrolet Sonic \ concept vehicles \ convertible \ day 1 \ Grand Coupe \ Jaguar F-type \ Land Rover Evoque \ Mercedes-Benz SL 65 AMG \ new york auto show \ New York Int'l Auto Show \ NY Auto Show \ nyais \ Reveal \ Rolls Royce Phantom Series II
The arrival of the New York International Auto Show can mean one thing: Spring is here, and it's time to see what surprises blossom from our favorite auto manufacturers. here are the highlights of day 1.