Home » Posts tagged with » LA auto show
car \ cars \ Coupe \ F-type \ F-type coupe \ Jaguar \ Jaguar F-type \ LA auto show \ video
The wait for the inevitable coupe version of Jaguar's latest heartbreaker, the F-Type is finally over. Previewed at the L.A. Auto Show in a dazzling, flat-out reveal, the F-Type Coupé made it's presence officially known, and it brings with it more then just a solid roof: It brings with it the letter "R". The F-Type […]
Coupe \ F-type \ F-type coupe \ Jaguar \ L.A. \ LA \ LA auto show \ live streaming \ Reveal \ streaming \ video
We are hotly anticipating the reveal of Jaguar's F-Type Coupe at this year's L.A. Auto Show, and you can join us! Watch them pull the sheet off right here at AutoKinesis at 10pm eastern (7pm pacific) and let us know what you think in the comments below.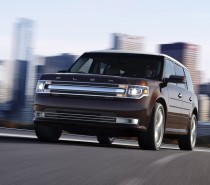 Flex \ Ford \ Ford Flex \ LA auto show
The Ford Flex polarized the crowd with it's distinctive design, some possibly (and wrongly) feeling it was all style and no substance. Next year fans and nay-sayers alike will be hard pressed to ignore the upgraded model with a sleek new look and even more technology to make driving safer, easier and more fuel-efficient.