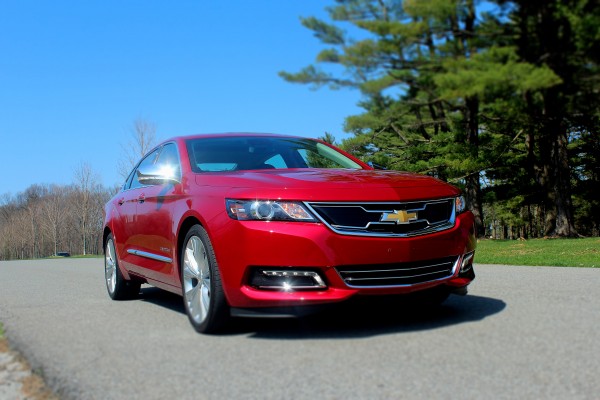 Sometimes an automotive development team will have a serious challenge dropped in their lap: take a model with a legacy existing since the 50's, which is now known for being rental car fleet filler, and make it something customers actually want to buy. After a short time with the 2014 Chevrolet Impala, it's apparent that this particular team stepped up to meet that challenge, but did they succeed?
You really have to sympathize with anyone tasked to revitalized a nameplate with such varied connotations. The Impala and its unmistakable tail fins came to prominence in the late 50's and continued to be an iconic part of the American landscape throughout several decades. Today, it seems that, barring the odd lowrider, the Impala moniker is better known as a bland fleet vehicle for companies, government agencies, and police interceptors. So how does a team break the car out of such a bland stigma without a hydraulics kit?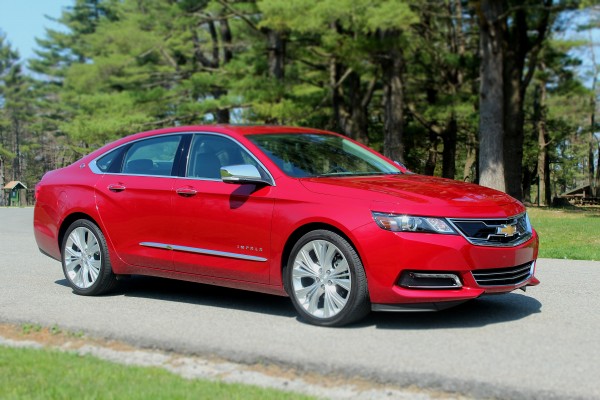 A full redesign for starters. Immediately, the new Impala stands miles apart from the preceding generation with a refreshingly stylish facia. The redesign gives the face of the vehicle some sharp features that gives this generation a seriousness that the previous version did not. I venture to say you'd be satisfied if you saw such a grille on a performance-built sedan.
What's important here is that with a legacy nameplate, it's easy to go back to the well to the rose-tinted heyday and ape the details of the alpha model, and Chevrolet thankfully went the complete opposite direction with the Impala. While I have no doubt that they looked to it for some inspiration, whatever they took away was quite minimal. Riding on 18, 19 and 20 inch wheels, the car's profile does look quite hearty.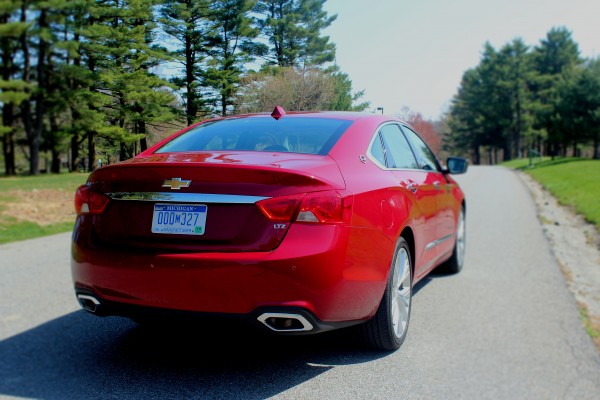 Nothing out of the ordinary is to be said about the interior. Simple lines and small details to touch points go a long way into sprucing up an average cabin. They've continued with the "dual-cockpit" layout that the Malibu has, describing how instruments flow around the driver. If that means everything is easily within reach, then yes, the Impala's got it.
At the center of it all is the MyLink infotainment system which has a list of features long enough to warrant it's own review. The system doesn't sport the haptic touches found in Cadillac's CUE system, but does show Chevy keeping with the times with its tablet-inspired layout. Found on the 8-inch home screen are several apps that connect with an occupant's phone and allowing many cool features to be used hands-free or with easy to access controls. Pairing my phone and running the Pandora app let me effortlessly access my long forgotten stations, turning the drive through Westchester into an impromptu time travel journey for me and the Chevrolet MyLink specialist who had joined me.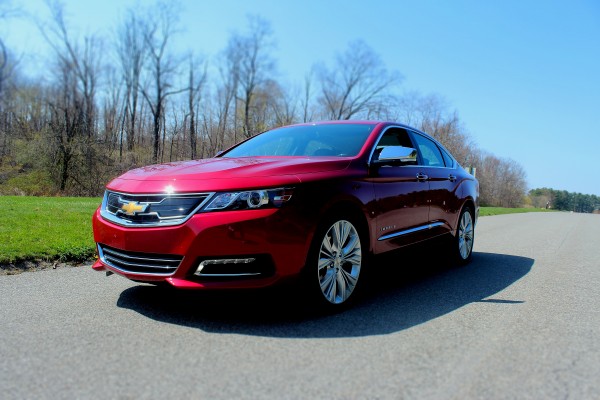 Screens can be customized and arranged into pages to flip through once you collect apps that you'd like to have at the tip of your finger. Apart from all that, the touch screen has one more trick up its sleeve and that it can raise upward with the push of a button to reveal a hidden storage compartment with a USB port behind it. It's a good place to tuck in anything you want out of sight for a drive, like perhaps an iPod.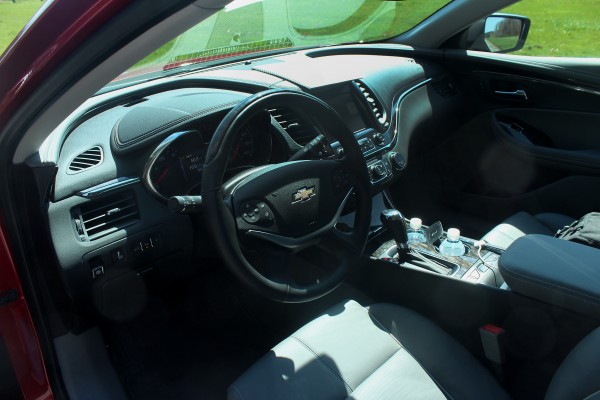 The Impala's target market seems to be the older crowd. Indeed, a member of the sedan's design team noted that the trunk was design to fit four golf bags. This is the car for the individual who's kids have left the nest, and now needs something spacious enough to conduct his or her business in comfort, which it certainly has. Front headroom of 39.9 inches and legroom of about 46 inches gives the driver some breathing room. The Impala spent much time in a wind tunnel as well to tune the exterior points specifically to get the wind noise down to the level the team demanded. The ride is comfort-minded as well, and having rolled over several cracked up pavements along the drive, they were hardly noticeable at all.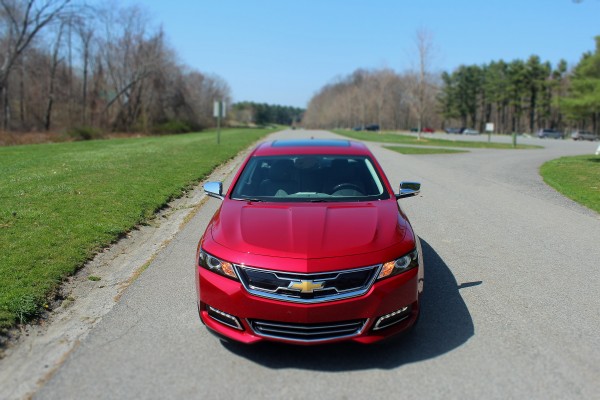 That's not to say the Impala dawdles from point to point. The 3.6L direct-injection V6 pumps a respectable 305 hp through a 6-speed automatic transmission and gives it 264 lb-ft of torque. Chevy claims a 0-60 of "just" 6.8 seconds, but realistically, as long as the sedan can overtake safely, which it can, that's just fine. The Impala doesn't blow anyone away with performance or handling, even as they lifted the electronic steering system from the Camaro. It does what is expected of it, and that's perfectly sufficient. If you're looking for a full sized sedan with punch, wait for the SS; The Impala will have none of these shenanigans.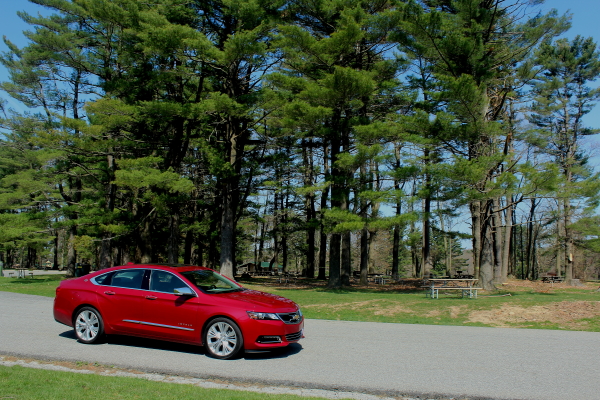 Throw in ten standard airbags, adaptive cruise control, and you have a safe and easy car that will take the chore out of commuting. Fuel economy isn't anything to write home about with a claim of 19/city 29/highway, but it's segment average. The Impala is a good looking, comfortable full sized sedan that can keep up pace with the cars around it. As far as 50 year olds go, I think we should all be so lucky.
-Promiscuous Data-
Curb Appeal: Highly improved styling brings the Impala out of its rut
Notable Rival of the Week: The pronouncing of "pal" in Impala. It Rhymes with "balla" or "holla". Or "challah". Get with the short A's, people.
Price & Availability: MSRP of $26,725 for the LS. Can go to $35,770 for the 2LTZ
Fuel Economy: 19 mpg city, 29 mpg highway
Bottom Line: Sharp looking sedan worth a look if comfort is paramount over performance.
Words and Photos by – Alex Kalogiannis