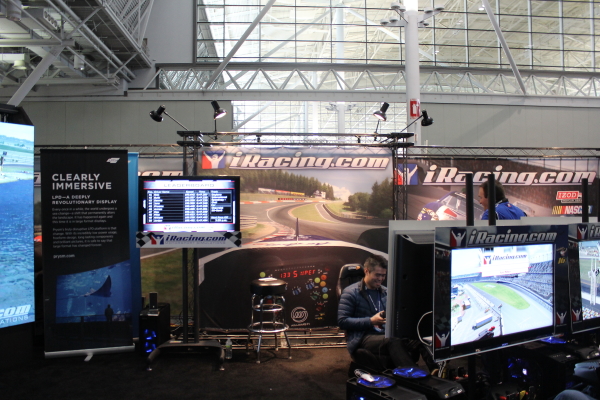 We haven't seen iRacing at PAX East for two years now, as they decided not to attend last year, and there have been a ton of additions in that time. A line of attendees wrapped around their booth, eager to hop in one of the driving seats set up to try out the new NASCAR offerings recently added. Making my way through the crowd of fans just watching on, I had a chance to catch up with Kevin Bobbitt, Director of Marketing & Communications, to get the run down of recent additions, and what the future holds for iRacing.
Auto Kinesis: We first saw you here 2 years ago, as you were kind of starting out, and you weren't on the floor last year. What's changed since we last spoke?
Kevin Bobbitt: Yes we took last year off. Lots, iRacing is under constant development. We basically do quarter releases, updates to the game. So it's not like you have to go out and buy a new tittle, If you're a member you get those updates automatically, included in your membership. So we've had all kinds of new features, new content available since we've been here. Whats the newest thing? The Gen 6 NASCAR vehicles are now available so we have the Chevy SS and the Ford Fusion. It's the first time we've had multiple makes in NASCAR, so its pretty awesome, They're running here at PAX, that's what we're running on these Daytona races. We also added a McLaren GT car. I guess the biggest thing on the NASCAR side is not just the Gen 6, but we now have licenses for all of the NASCAR tracks, so we're basically a complete NASCAR game.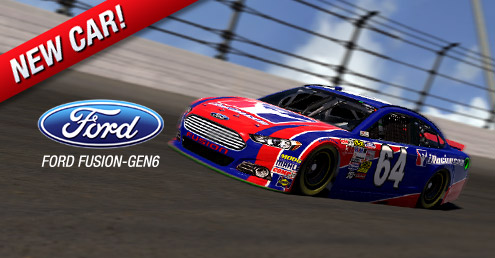 AK: Did iRacing launch with NASCAR modes?
KB: We had NASCAR stuff when we first launched, but we've been adding more and more tracks. We've been a NASCAR partner for years, but we've been trying to add all the content so you can basically run a full series. In fact we have an official series that we call "The NASCAR Series" that runs the exact same schedule as the real guys. So its kind of cool, you can race every week, its open to just about all of our members, so its pretty exciting.
AK: All licensed tracks, right?
KB: All licensed tracks, absolutely. Of course we do road racing as well. We do Indy cars, Formula One cars, sports cars, ALMS, Grand AM type cars, Aussie V8's, It runs the gamut, everything we offer we offer.
AK: Whats next in the pipeline?
KB: Content wise, the next track to come out is California for NASCAR. The next road track would be Montreal which is pretty exciting. Then we have Bathurst, which is a really awesome track, running with the Aussie V8's, That will be out this summer I think.
AK: Have you been working on getting the new F1 Austin track in the game?
KB: We would very much like to add the track, we just need to get the license. We started talking to them, they've been crazy busy with all of their new races and getting the track running. I'm pretty confident we'll sort something out at some point though. It's a beautiful facility though, absolutely gorgeous.
AK: Do you send research crews out to each track? What's the process of adding tracks into the game?
KB: Yeah, what we do is we send a couple of guys with a laser scanner. A track like Coda would probably take about a week to scan. We usually work at night since the tracks are often rented during the day. And then we'll take thousands of photos of the track as well so we make sure we get color and placement of all the signage, markings on the track, guardrails and that sort of thing. Then it comes back in-house. A track like that probably takes about 4 or 5 months to build in-house. We have to build all the track side objects, it's not just the racing surface, it's everything.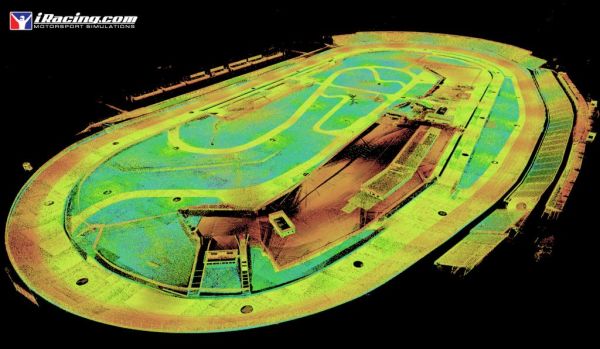 AK: And you use a similar system for the cars themselves?
KB: Absolutely. Sometimes we get a little bit of an advantage, if the constructor will send us CAD or things like that, but often we end up scanning the car anyway because they might not have exactly what we need. Then, we work with teams to get data. So, well get aero data, engine data from the actual teams because they've been testing it, they know what the car does. We've been lucky, pretty much every car we have, we have a member that drives one in the real world so we get feedback from them and say "does this actually drive like the car you race on Sunday?" So its a combination of real world data, which makes it authentic, but you have to make it feel real too, so you work with both.
AK: Besides the Austin track, what is something you would really like to have in the game?
KB: Well we're working on driver swaps for endurance racing. A couple of our engineers are working on that. Its been a long term project, I don't have an ETA, but I know they're working hard on it. That will be big, there aren't a lot of games in which you can do that. So if I'm here in Boston and you're in California, and we're on the same team, you'll be able to hit a button and you can either crew chief for me or we can do a driver swap and run a long race, which will be pretty incredible. The Bathurst race is what, 1000km or so? So it s a pretty long race, you'll definitely want a driver swap in that.
AK: Or a 24 hour endurance race.
KB: Exactly, We can do the 24 hours of Sprague, because we already have that track. We definitely want more than one driver for those, so that's pretty exciting on the road side.
AK: How has your business model been working out, how's the feedback been so far?
KB: It's great. We think of ourselves as a racing MMO. You become a member, you get all the basic content, which is everything you need to for your rookie racing, then you can buy the content you're interested in. You can buy some of it, all of it, doesn't matter, whatever you want. Whats become popular, probably since we were here [at PAX East] last, is hosted racing, or leagues. So a lot of leagues are moving to iRacing because we have a lot of functionality for that now. You can be a league admin, set up the races you want, how you want, whatever length, whatever car, invite who you want, run your own point system. You can do that all within iRacing, which is pretty cool. It used to be you had to go and know how to set up a server and do all that, now you just need to be an iRacing member. If you can work a mouse you can figure it out.
For more information, or to sign up check out http://www.iracing.com/
And check out the new trailer pitting the Ford Fusion-Gen6 against the new Chevrolet SS-Gen6

Interview by – Victor Kalogiannis