Benz, Audi and BMW's New Battle Ground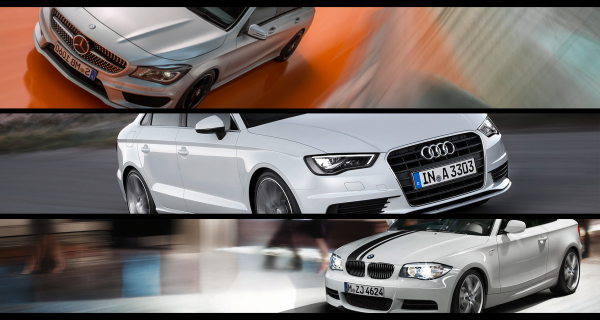 The dream of the luxury car is alive and well in this post recession world. As America, and the world, slowly creep back to a state of economic norm, a whole generation of college educated potential employees are suddenly finding work again. The reality of the "post-recession" world is that those jobs don't pay as well as they used to. Suddenly that first BMW that you wanted so badly by 28, is now the new dream for 35. That delayed gratification of years of hard work and skipping parties seems to be a sadness falling over the 24-30 year old auto-buyers … a coveted market for auto makers. Brand loyalist are built in those years. When you hear a 50 year old man say, "I'm a Chevy man, always have been, always will be", that trend probably started in his early twenties.
That said, BMW, Benz and Audi are quite cognizant that there is whole generation of auto-buyers who have had lofty dreams of being owners by their mid-to-late 20's. This is why there seems to be a whole new battle raging between the big three of luxury to see who can lure this new market. A battle for the bottom-line.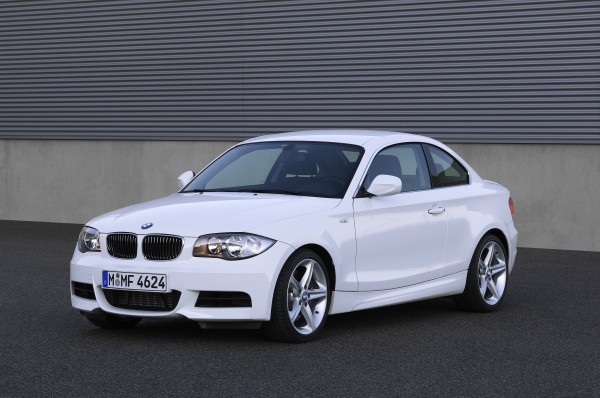 BMW 1 Series:
This is the Bavarian giant's contender for this new fight is the 1-Series. While this has been in the U.S market for a couple years now (since 2008), it is still the lesser known of the BMW line up. The entry level 128i coupe is power by a DOHC inline 6, producing 230hp and mated to a 6 speed standard transmission to move the 3208 lbs (unladen) curb weight. It enters the market at a little over $32,000, which makes it the most inexpensive BMW on sale in the U.S but also the highest priced option on this list.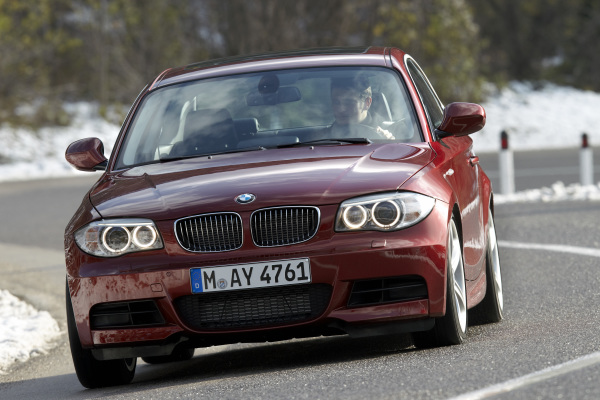 When optioned and trimmed upwards, the line moves into the highly impressive 135i and the now cult-classic, super-limited, 1-Series M (often mislabeled by layman as the 1M). The 135i is rocking a twin turbo version of the inline 6 powering its little brother. The result of all that heavy breathing and some engineering black magic? A little over 300, well-bred, dark steeds. The 1 Series M is a beast all its own that deserves a lot more than the 2nd half of a paragraph. So that is exactly what we gave you a year ago when we drove it.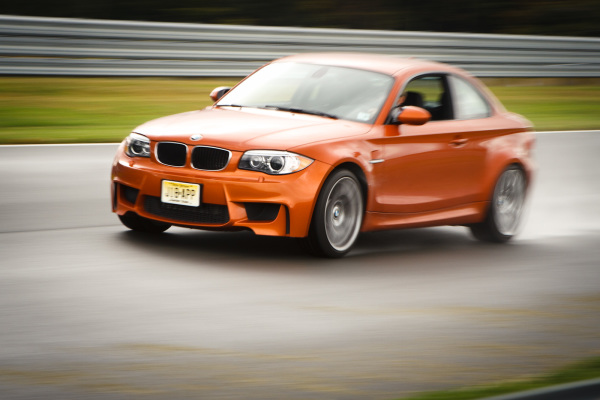 Final Thought: This car in many ways is the weakest contender in this new category. It starts over $30K and when even decently appointed, it takes a good climb up the price charts from there. It isn't the roomiest of the options and the design has been viewed in some eyes as "feminine". That said, the ground lost on its sticker is made up with interest by simply sitting in the car and pressing your foot down. I was personally moments away from spending every drop of the savings I did not have to be one of the proud owners of the limited production 1-Series M. In my humble, yet informed opinion, the 1-Series is one of the greatest driving experiences on the road today. A combination of a powerful engine, near perfect weight distribution and overall handling perfection, makes this car a pleasure every time you start her up. This thought is further validated when you find comprable driving experiences but in much higher price points. Arthur C. Clark once say "any sufficiently advanced technology is indistinguishable from magic". This statement is never held truer than when driving this car.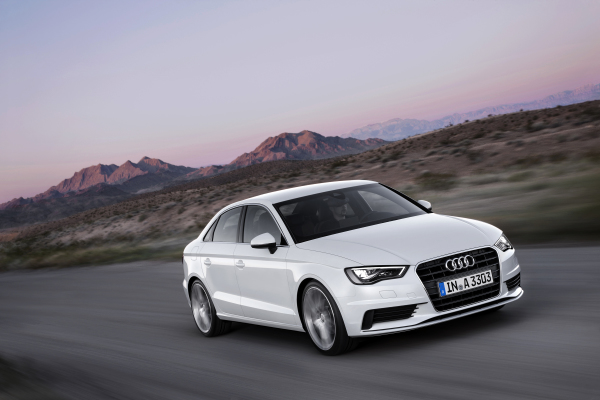 Audi A3 (refresh):
The A3 is not a particularly new contender into the arena either. The smallest of the Audi line up has been a staple in Audi's European showrooms since 96′, though like most things reasonably sized, economical and fun to drive, it did not find its way to U.S shores for a few years. The American market saw its first A3 in 2005, a whole 9 years after its European release. When talked of, it's often held up against its platform-mate, the Volkswagen Golf/Rabbit. (I find such a comparison to be high praise, but that's me).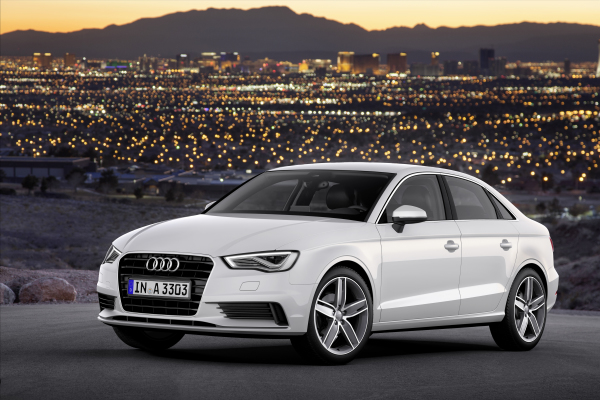 This new 2015 A3, coming to showrooms spring 2014, brings a very targeted approach to this "A-segment" battle. Their target is evident when you realize how often they emphasize the features, "normally found on higher end vehicles". Many of the "flagship" styling features and signatures are found either directly on this new car, or in some way interpreted. The idea is the illusion of a much grander Audi owning experience at a price tag that starts at a little over $28K.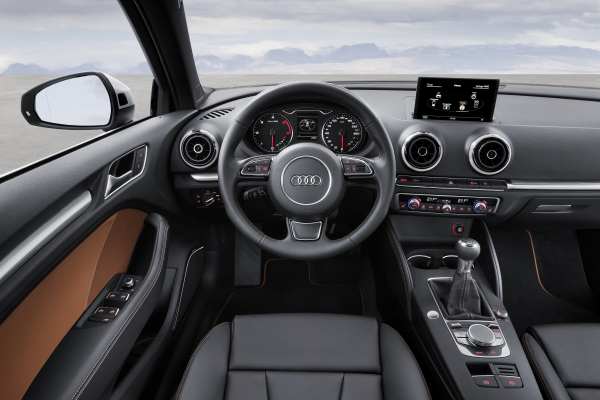 This new A3 will be powered by number of propulsion options. There will be an available 1.8L and 2.0L TFSI or for the more mpg conscience a 2.0L TDI (diesel) option. The more powerful, and pricer, S3 sport version, available for the first time in the U.S, will be powered by the high output version of the 2.0L TFSI as well. The base model 1.8L will still be outputting almost 170hp, which may seem on the low side, but when considering the lightweight, compact body it should still be a fun show.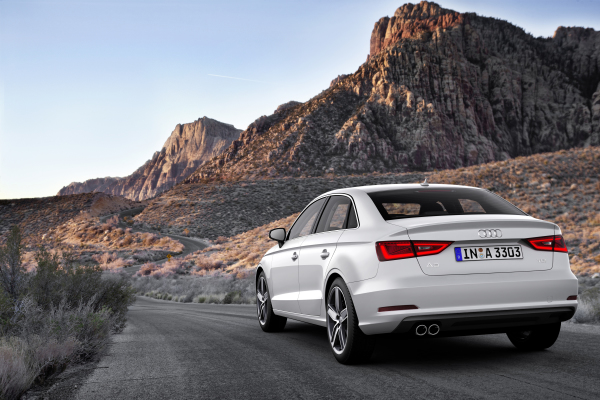 The interior is where you really are sold on the "Audi Ownership Experience". The A3 marks the first time that an A-segment vehicle will offer MMI technology, Audi drive select, 4G LTE connectivity and Bang & Olufsen audio. Even the base model of the all-new premium Audi A3 comes equipped with standard features that include leather upholstery, Bluetooth technology, rain sensing wipers, Audi pre sense basic and a panoramic glass sunroof. All these features are normally reserved for higher end segments, like those filled by the A6 and A8. When considering the starting sticker that cost about the same as a Honda Accord, you start to get the picture.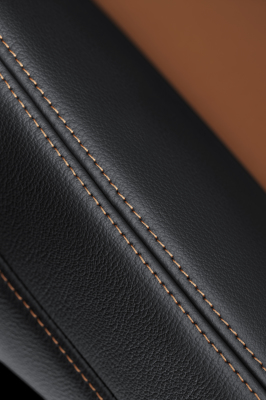 Final Thought: This car really does seem to target the market of auto-buyers who have heard of the fabled Audi Ownership Experience, but maybe haven't had the funds to experience it firsthand. This car has always had my heart, both in design and performance. Unfortunately, we will not be receiving the sport-back version that we are accustomed to seeing, though that should stop any comparison to its platform-mate, the VW Golf. We are supposed to see a sportback version Stateside eventually, but it will arrive with a (PHEV) plug in/gasoline hybrid, dubbed the A3 Sportback E-Tron. I think this car maybe the best looking one of the contenders. The driving experience, while surely "Audi-esque", might leave a little pick up to be desired, though I can not say that with confidence until I get behind the wheel.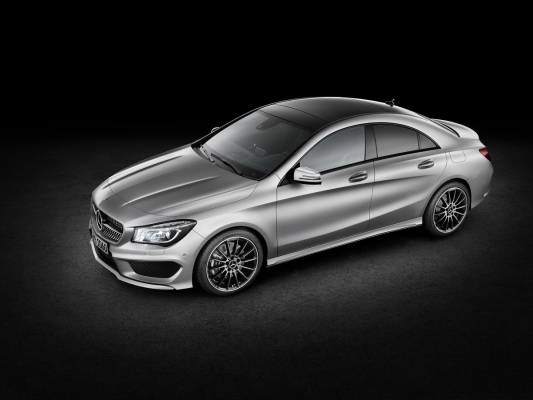 Mercedes Benz CLA250:
This is the neophyte in this battle. This brand new contender has the added advantage of no prior model linage to live up to. It simply has to embody the prestige of the 3 point star emblazoned upon its front grille, which, admittedly, is not an easy task. The boys at Benz purpose built this machine to do a couple of things. This car is designed to take on the 1-Series/A3, to emulate the joy of owning a full size Mercedes Benz and to do all of this for under $30K. Seeing as German's rarely miss the mark, when it comes to their cars, the CLA hits the nail on the head.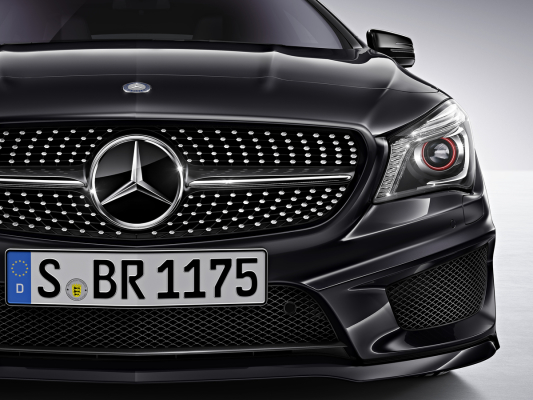 The first thing you notice with this car is the striking design. An obvious influence of the flagship CLS coupe, this car has raking lines that follow through all the way to the rear. The 4 frameless doors appear to be the production realization of the "Concept Styling Coupe" that we saw in China in 2012. Dr Dieter Zetsche, Chairman of the Board of Management for Daimler AG and Head of Mercedes-Benz Cars noted, "The CLA is a car that does not confuse 'mid-size' with 'mid-quality'. Its sporty design underscores the sporty side of the Mercedes-Benz brand."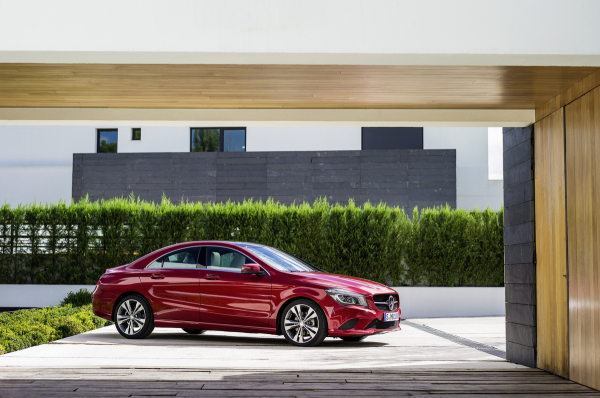 The turbo-charged 4-banger is pushing 208 hp to the wheels, which puts it in the middle of the pack. What really seems to differentiate this car from the other two is the styling. This is not a short wheelbase car. At least not in the way the other two are. The swept back stance stretches well past the rear wheels. The exterior's progressive, sporty appearance also carries through to the vehicle's interior. Anthracite surface finish is available as the standard trim. Additional trim options include burl walnut wood, black ash wood and aluminum.The instrument panel incorporates five air vents. The outer rings of the vents are done in a high-quality galvanized finish, while a galvanized insert controls the direction of airflow. The free-standing display is set in black piano-lacquer trim and edged with a flush-fitting silver frame.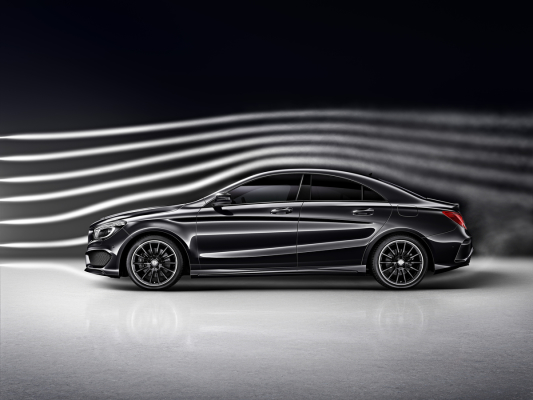 Since the vehicle is so new, there aren't many trim levels available yet. Although, that seems to add to the idea of exclusivity. When speaking of higher end vehicles, there are less trim levels because more things are considered standard. All and all the magic under the hood and body isn't all that unexpected of a Mercedes Benz coupe. Responsive engine, great handling and an available 4MATIC all-wheel-drive system define this car as Mercedes first and an entry level mid-size second.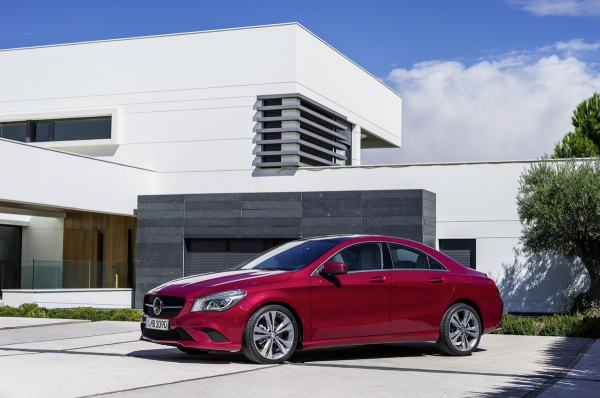 The combined forces of precision science and the imagination of a 10 year old, that are wielded together in the AMG labs, have managed to pump out yet another weapon's grade masterpiece in the CLA45 AMG. A rear wheel, lightweight version of the CLA with a monstrous 355 hp, means that this car is one to be reckoned with. While impressive, it does put the price tag into the mid-40's. Thats solid 3-series money.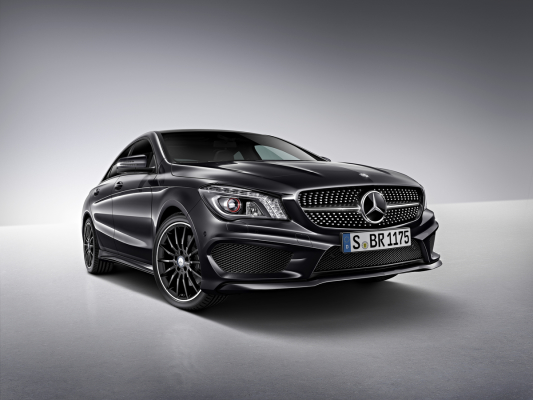 Final Thought: There is something to be said for purpose built. When a car fits a set of needs like a key into a lock, there is a satisfaction of getting exactly what you want. Benz has wasted no time, effort or money pushing this car to the forefront of the Benz conversation in the U.S. With an impressive Superbowl ad, full of major celebrities, they sold the lifestyle of owning a luxury car. Subtlety is not an available option. Passing judgment on this car is hard without a first hand drive, but so far, the numbers add up.

Conclusion :
What we see then is simple. Three cars, with the same potential customer in mind. All of them deliver, in essence, the same thing. They offer speed, handling, european styling, comfort and most importantly the prestige of a badge that has long stood for quality and refinement. This is the kind of battle we all hope for as both automotive enthusiast and as consumers. If lovable Hollywood Rom-Coms have thought us anything … when three men fight over the same woman, it is the audience that wins.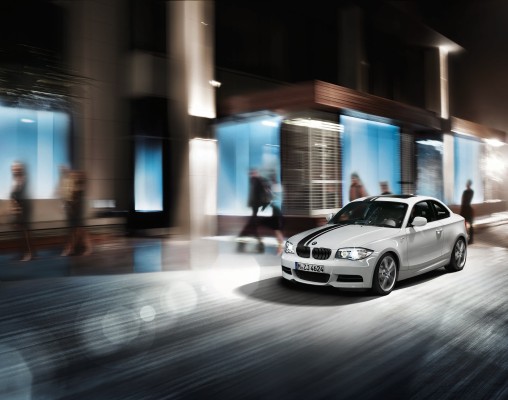 On a more overarching note, I wonder if this marks a new era for the big three luxury car makers. Is this a necessity to survive in this new post-ressesion world? Can you really call your brand exclusive when it is so readily available? I know how this may sound, but part of the allure of owning a BMW or an Audi was knowing that you mad the means to enjoy a vehicle of this caliber. Has that been sullied by knowing that such an implication is no longer obvious?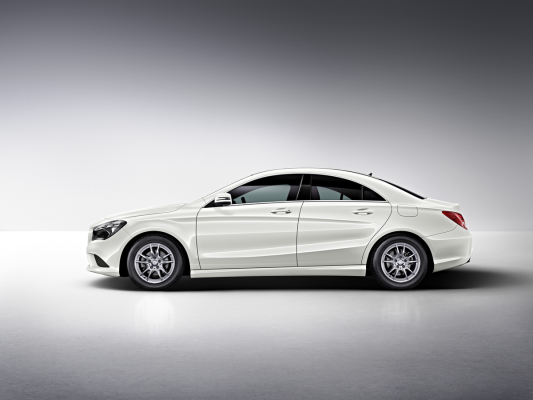 I tend to think the market has a way of evening itself out. The C-Class, Mercedes' long time entry level car in the North American market, saw a huge proliferation based on its price. This often meant that when you passed one the highway, or a friend picked one up, the reaction was mixed. While for a moment you thought, "Oh wow look … he got a Benz" it was often followed quickly by, "ehh … it's just a C-Class". If the point of these cars is to give the allure and illusion of full on luxury ownership and a lower price point, won't the inevitable proliferation of this car soon be met with the same ambivalence?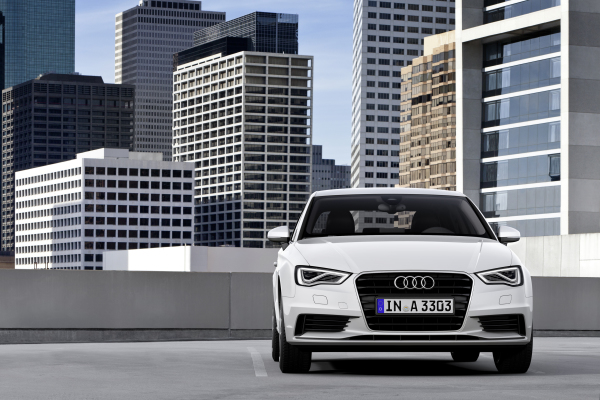 Since my youngest days, growing up in a lower middle class community in Queens, New York, I was always a car guy. Each car had a meaning to me. Some cars were my, "when I'm rich and famous" cars. Others were my "when I want to race" cars. The Benz S-Class, BMW 7-Series and the Audi A8L were always my "how I know I've made it" cars. When I saw those long wheel based, tinted window, carriages drive past, I would stare in awe and jealousy as I daydreamed about being the person inside. I don't know that these new additions to the line-up do much to help that thought.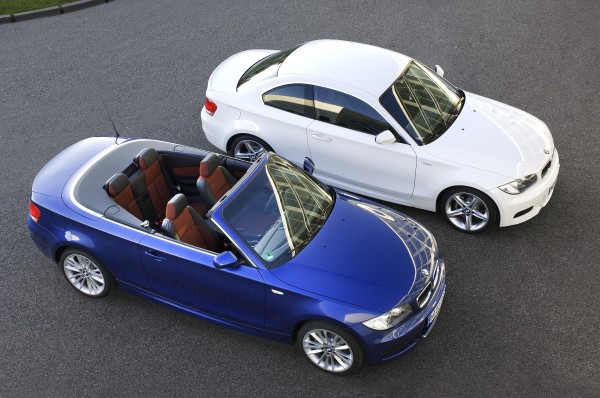 To play my own devil's advocate though, these new cars brings luxury to a whole class of auto-buyers. Many hard working, well deserving, college degree holding refugees of the recession, like myself, can once again hold our heads up high when asked about the contents of our driveways. This may not be the brands stepping down their standards, but rather the minimum requirements for the compensation of a hard days work simply getting higher.
Words By – Hari Mani
What do you think? Do you think that these new cars peak your interest? Do these new brand sully the already great names of these great brands … or do they enhance them? Tell us in the comments down below or on twitter at @autokinesis