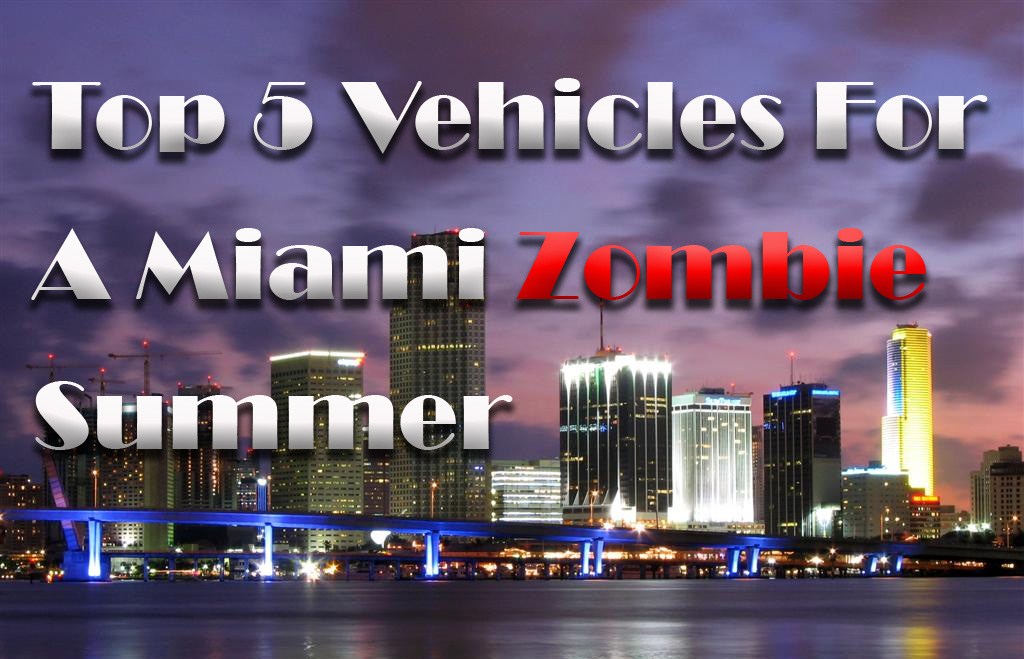 If you've been following the news for the last couple weeks, then you are undoubtedly aware of face-eating Incidents in Miami, dismemberment stories from Canada, and other apocalypse scenarios making headlines. A buddy of yours may be chewing on your ear right now. It doesn't mean he likes you. Not in that way. These reports have been the inspiration for many of us to come up with our own "survival plan," and a question that comes up a lot is transport. As this whole thing kicked off in the sunshine state, AK decided to come up with the top 5 vehicles to survive a zombie horde Miami-style.
5 – Jeep Wrangler (MW3 Special Edition)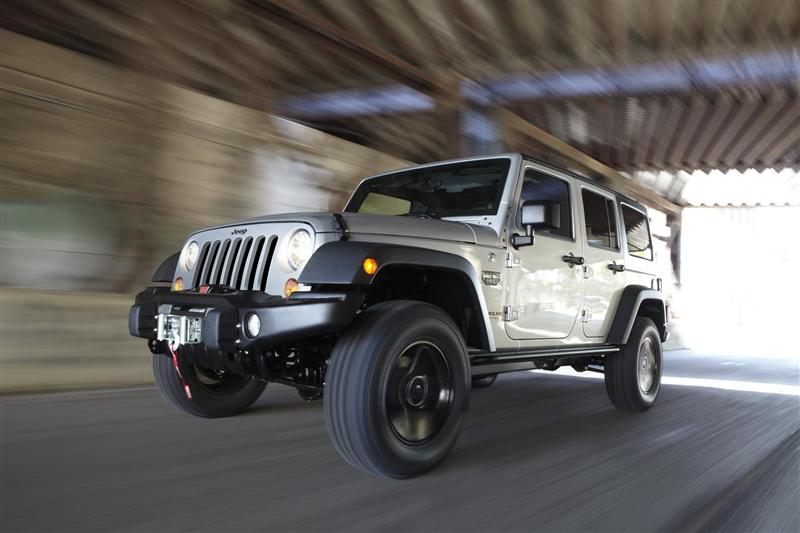 This legendary off-road vehicle takes quite a bit to stop. This special edition model comes standard with many of the off-roading features that might help survive whatever might be around the next corner. Seeing as how many people's Modern Warfare fantasies of paramilitary turkey shoots would probably be coming true, what better truck is there than the one designed with the game in mind.
The Downside: While you could traverse nearly any terrain, if your plan is heading deep into the bread basket, you might want to steal something a little more comfortable. And while this edition may inspire you to rank up an undead killstreak, those COD decals ultimately won't save you. It is worth mentioning that the uncomfortable seats and rubber trim can all be simply hosed down, so the bloody remains of your post-life hitchhiker can be cleaned out pretty easy.
The Upside: Whether its off-roading, towing or winching yourself out of a bad spot, there are very few vehicles that as well equipped for this purpose. Also, seeing as this truck is popular with the suburban rich high school guy and college jock set, they should be pretty easy to find down by la playa. Something you will appreciate when time is of the essence.
4 – Conquest Knight XV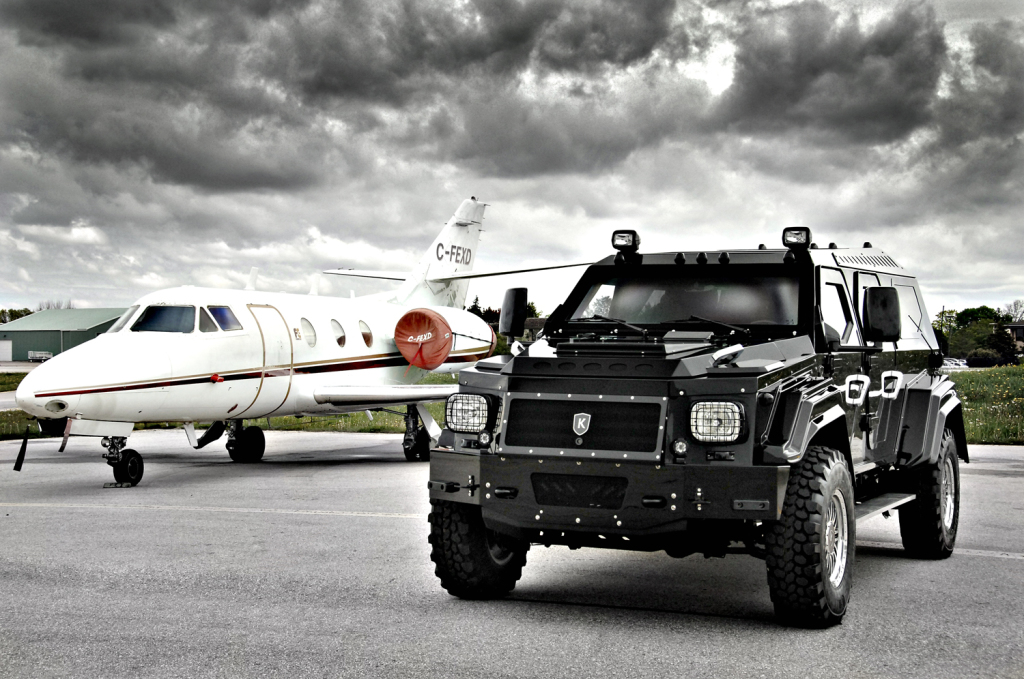 So you are a millionaire. You spend most of your automotive life being shuttled by your personal valet in the Rolls, but something tells you that the "Double R's" might not cut it if the going gets tough. You've already bought your zombie-proof house in the hills, now what can you buy to get you there? While the Conquest Knight XV was built with absolute comfort and a chauffeur in mind, something tells me this wasn't meant for Ms.Daisy.
The Downside: If you don't have the $630,000 to pony up for this war zone ready limo, then you might be S.O.L.
The Upside: If you do, then sky's the limit. The 2012 model comes with all the features of that Rolls and a couple extras. In addition to the decanter with glasses, humidor and cooler box that you find in your limo, this also comes with bullet proof glass and an external PA system. Oh … and did I mention the "under vehicle explosive protection system, opaque floor armor protection, under vehicle magnetic attachment detector, Black box, security safe, fire extinguisher, exterior surveillance camera system, positive pressure defense system against gas attacks, oxygen survival kit which offers protection against tear (CN/CS) as well as solid, liquid and gas contaminants." This means that you could even survive that ensuing war for resources that is bound to break out soon after the zombies and floods show up.
3 – Ford F150 SVT Raptor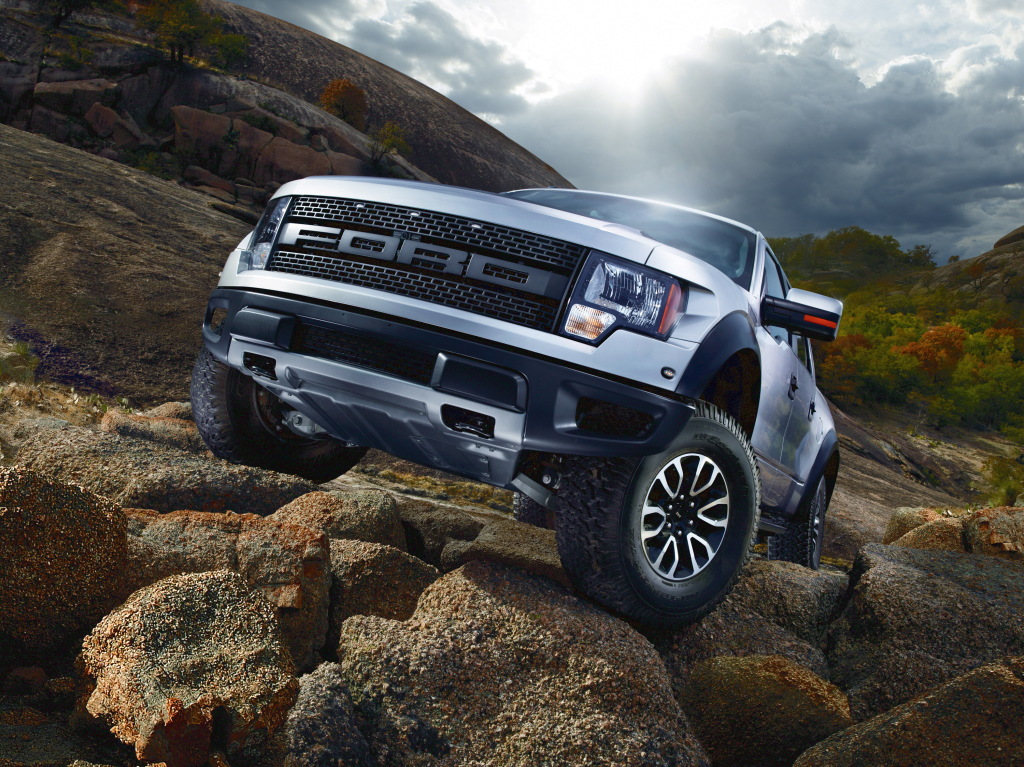 What's that girl? Jimmy is being run down by flesh eating rage monsters through a trail full of obstacles? Get my Raptor. Now, I know this made our last Top 5 list, but what can I say? when you get it right, you get it right. When it comes to the Raptor, Ford got the nail on the head. This prehistoric pick-up seems like it was built to answer a simple question: "How completely bad-ass can I be off road?" The monster truck in training gets its roar from a 6.2 liter V8 driving power to all 4 wheels. If you are trying to figure out how to get to the remote mountain government safe facility in the woods, then your prayers have been answered.
The Downside: Not of the easiest to find vehicle in major urban areas. If you want to steal one for the big day, start scouting for one now. A city gas mileage of 11 mpg and highway of 13 mpg also means you might be able to get away, but not very far.
The Upside: 411 bhp and designed on a 62 mile endurance course built to replicate the Baja 1000. Nothing stops this truck, and with 35" tires the ground clearance is more than enough to run over even the most overfed of flesh eaters. Oh, and for an extra $10K Hennessy will add another 60 bhp, allowing you to go 70-100 mph off road!
2 – MB G55 AMG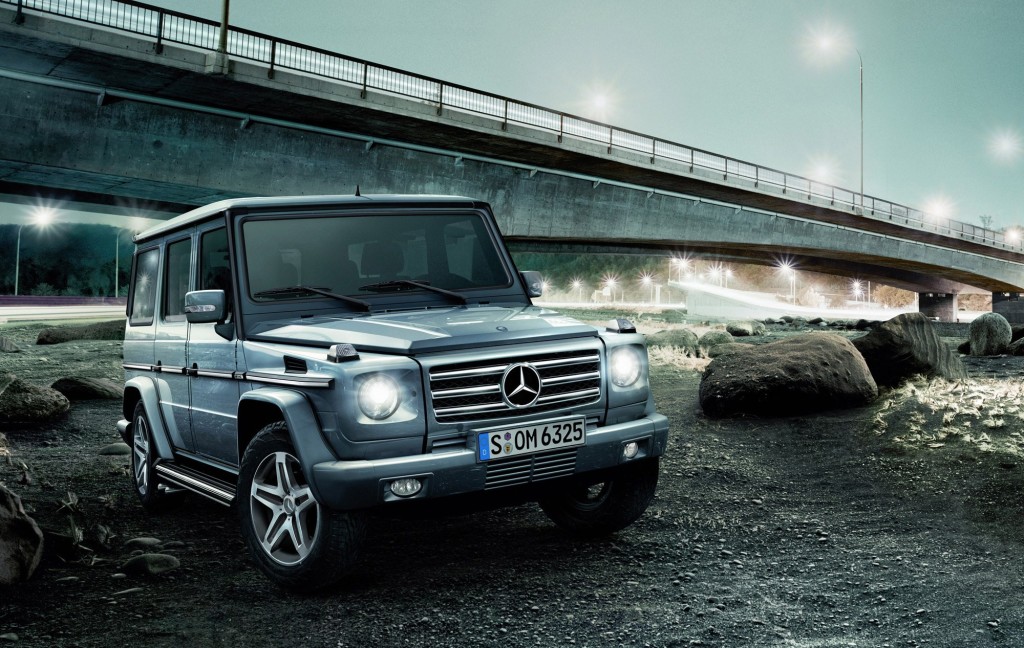 The boys over in the skunk labs in Affalterbach, Germany were not playing around when they came up with this one. Visually, this truck is an understated, purpose built machine with the efficiency and build quality that only the Germans could deliver. The supercharged 5.5 liter V8 has a mind blowing output of 500 bhp.
The Downside: Once again, not an easy car to find. If you know a balding dentist, or a closeted wealthy man-boy, they might be your only hope.
The Upside: German engineering mixed with AMG power. The off road abilities are almost as impressive as the on road. The interior is exactly what you have come to expect of Mercedes Benz: All the creature comforts and the style to match.
1 – Land Rover Range Rover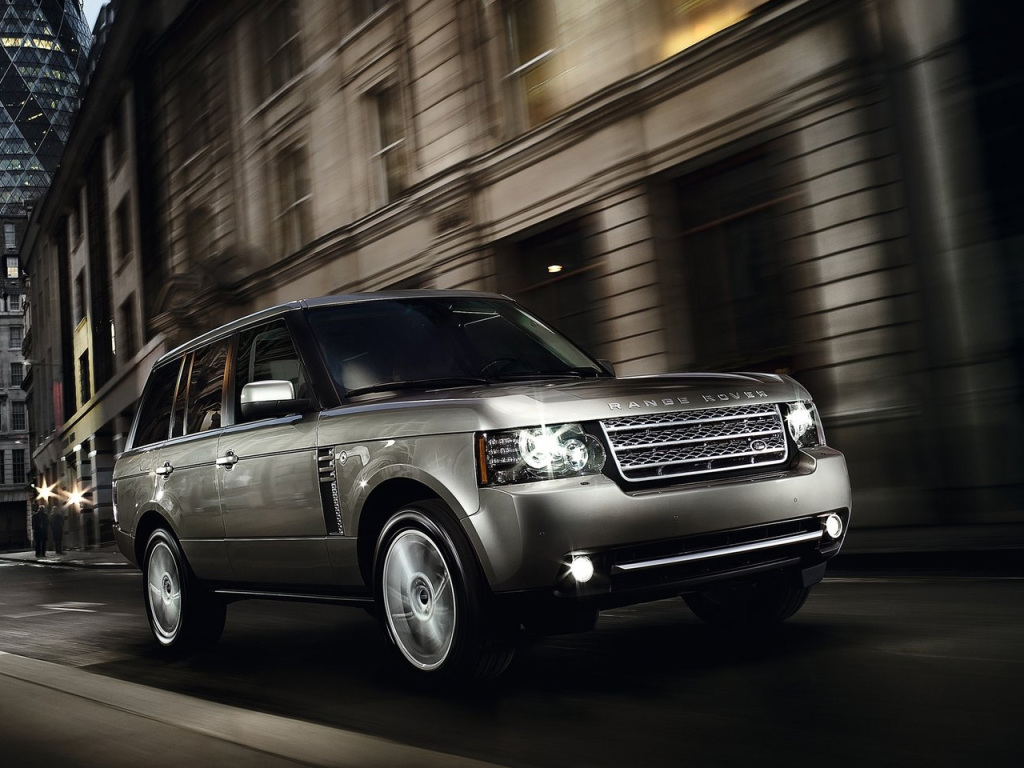 The sun may have set on the British Empire, but this has not stopped Land Rover from engineering vehicles that could endure the Sahara or Indian jungle. The lineage and DNA of the iconic Defender can be seen in all of their current offerings, none more so than the Range Rover. The legendary abilities of the Range are no stranger to anyone in the automotive world.
The Downside: If there is one, I can't see it. The vehicle can do anything you throw at it. Any suburban mother in south Florida who has earned her Tory Birch flats and Michael Kors luggage opted for this truck over the all too ubiquitous minivan.
The Upside: The globe-trotting icon is so Miami. You'd be the most fly survivor curb-stomping zombies with your Pradas in all of Coconut Grove.
There you have it folks. I can't guarantee that this list will improve your odds of survival, but it might just make survival a little more fun.
Words By- Hari Mani
*Editor's Bonus!* – Zombies in the city where the heat is on? Here's my plan of attack:
1- Lamborghini Countach (in white)
At the first announcement of city-wide undeadification, I'd roll up my suit jacket sleeves, march straight out of The Birdcage (I was there for, uh, work or something), and jump into my white lambo. The wedge shape would be perfect for hewing swathes of walkers, and I'd see just how red I can make it by the time I get to my destination, which would be the dock where I keep…
2- The "Thunder in Paradise" Boat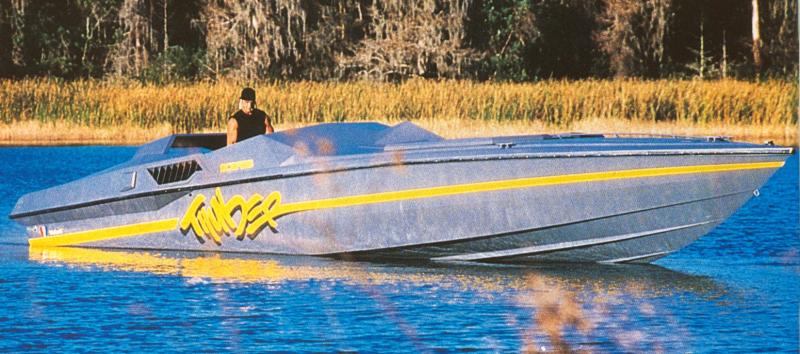 A 43-foot speedboat with mounted miniguns, rocket launchers, and the lingering musk of Hulkimania would be where I'd start to fight against the zombie hoard. Making my way up and down the coast and culling the landlocked infestation would be a breeze, plus I'm sure afterward I could sit out the end of the world on the yacht of some very appreciative bikini-clad models. Sounds like a stretch? It's Miami, bitch.
-Alex K.