First Drive: 2011 Rolls Royce Ghost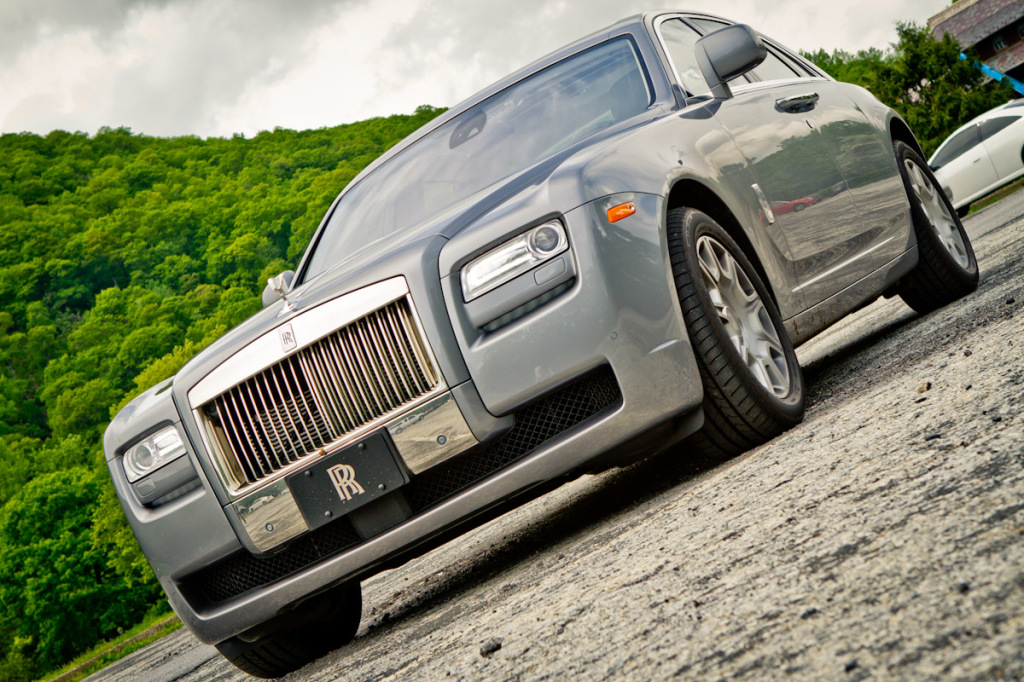 I am certain that at some point, you've had a discussion with your friends or FinalGear contemporaries, the discussion of what cars you would drive if fame and fortune were immediately bestowed upon you. I know I have. It usually splinters into a conversation about the expensive car you'd want to drive and the car you want to be driven in. Say that, more realistically speaking, after hard work and saving, you had the means to get one or the other. What call do you make? Rolls Royce says that the answer lies in their latest creation, the Rolls Royce Ghost.
My experience of this car has always been one befitting its moniker; I have seen pictures and heard whispers of it from colleagues, even caught fleeting glimpses of it in the middle of the night when I've been by myself. This is the first time that I've had a full-on encounter. Though 400mm shorter than the Yacht-like Phantom, the Ghost still maintains a commanding presence when spotted for the first time. The unmistakable front fascia and spirit of ecstasy immediately betray its make. A very amiable Rolls Royce representative opens the coach doors and invites me and AK photographer Jon Rouzier to take a ride. I climb into the driver's seat.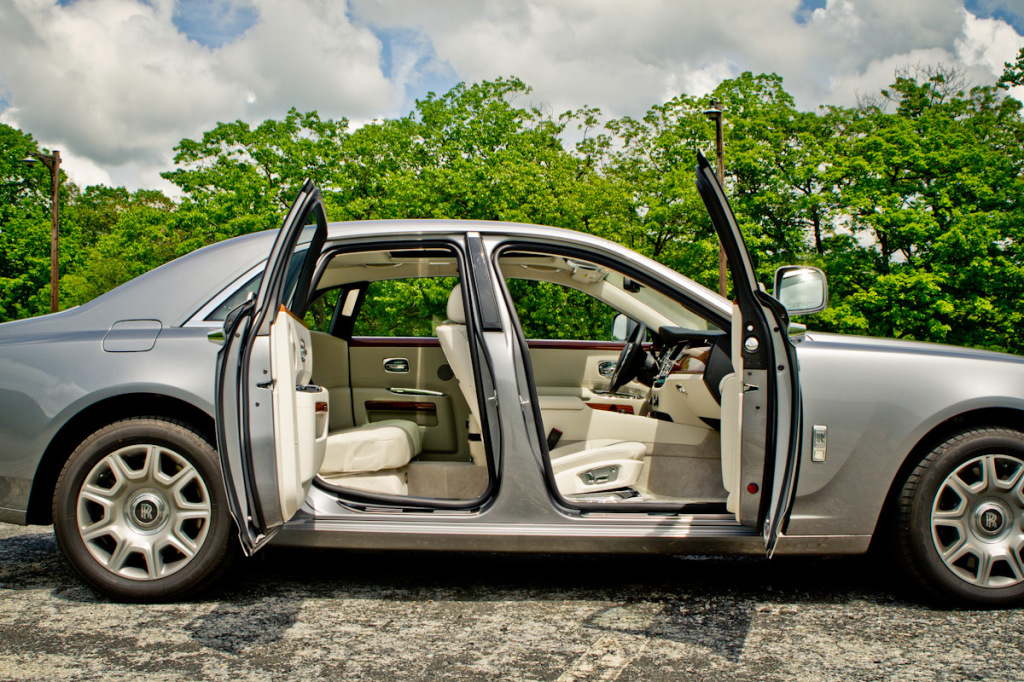 Before me is the truest marriage of classic coachbuilding and contemporary luxury I have seen in quite some time, an achievement all manufacturers attempt to replicate but few fully achieve. The melding begins with the classic gauge cluster set atop a heads-up display featuring an array of full color graphical menus, showing information like car settings, navigation, entertainment center info and can default to a compass, which also shows a full color rendering of the Ghost itself. Throughout the cabin are the traditional violin key switches and frosted white dials. The steering wheel itself has an array of chrome buttons and switches set around the center are reminiscent of those found on a flute.
The passengers note that I'm driving at a rather (and uncharacteristic) sedate pace. I conclude after a moment of reflection that it's because I'm very much enjoying the comfort of the ride and my surroundings and sort of distracted from seeing how the car performs by wallowing in the wood-furnished-leather-bound cloud of my surroundings. Indeed, the car floats on its air-suspension system, coupled with electronic variable damping to a degree of smoothness that demanded of a Rolls Royce.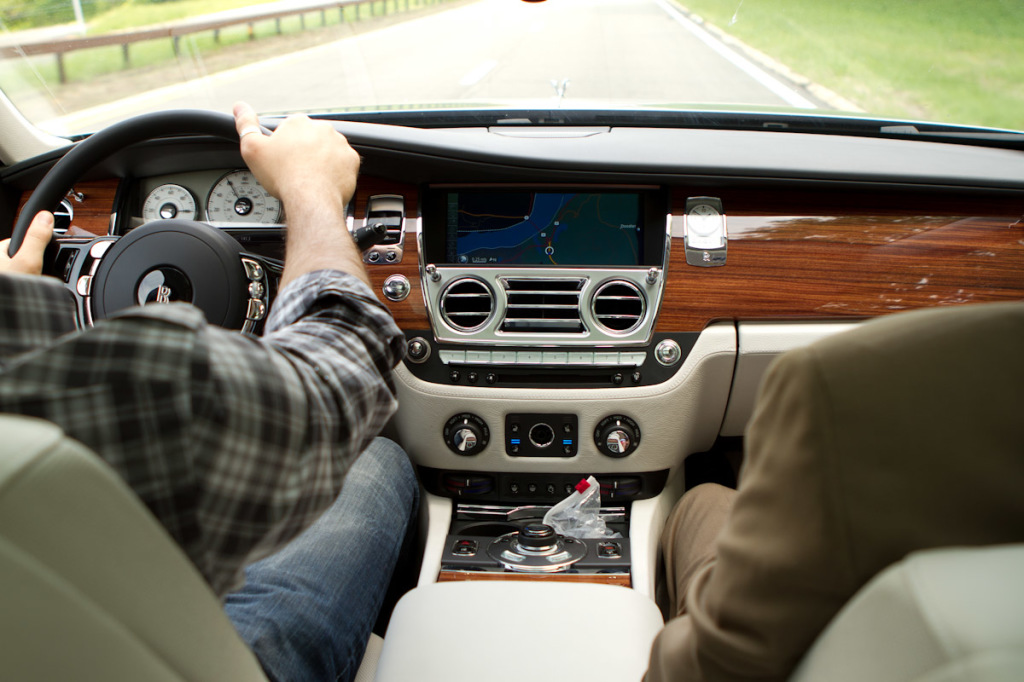 Fine, I relent. Upon encountering a stretch of road, I lay down the pedal and the 6.6 litre twin turbo V12 comes immediately to life. The engine will produce 563 bhp and in this moment launches us forward. Having all the elegance and comfort at our disposal suddenly become capable of rocketing down the road at breakneck speed felt almost unnatural, as if witnessing the queen sprinting down the road and disarming a robber. To put it in numbers, the Ghost, with a curb weight of 5,445 lbs, will do a 0-60 time of 4.7 seconds.
In the back, Jon is enamored with his cushy surroundings. While lavishing in the deep-pile carpeting engaging the panorama sunroof, he discovers the picnic tables that are affixed to the back of the front seats. There is much to do for him back there. 9.2 inch LCD screens can be included in the Ghosts' configuration, along with a 6 disc multimedia changer. There are also several USB and auxiliary outputs to connect media devices, as well as SD card slots to download files into a 12.5 GB hard drive. A CD changer is also included as most of the target demographic still clutches to their Andrea Bocelli greatest hits CDs.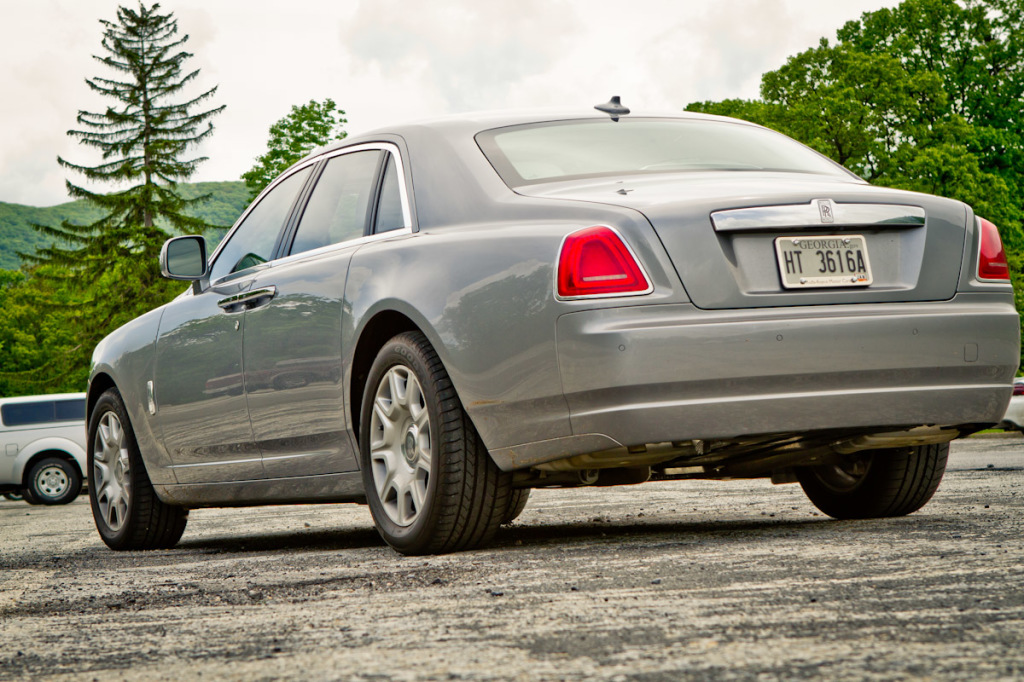 There is still much to distract me in the front seat, and I begin to fiddle with the more safety-oriented toys, such as the cameras that are on all sides of the car. These can combine to give me a fish-eye perspective of everything around the Ghost. Excitedly, I discover the night vision camera, which sends infrared heat images from the camera, much like what one would see from police helicopter footage.
At a starting price of around $250,000, those in the market for a luxury sedan suddenly find that owning a Rolls Royce is a concept more realistically attainable. First off, a Phantom, being at least $100,000 more, isn't something one wants to drive as often as the Ghost. The Phantom is the Tuxedo that only comes out from the closet on very special occasions; to dazzle and to look your very best. The ghost is the tailored suit that you can wear throughout the week with different shirts.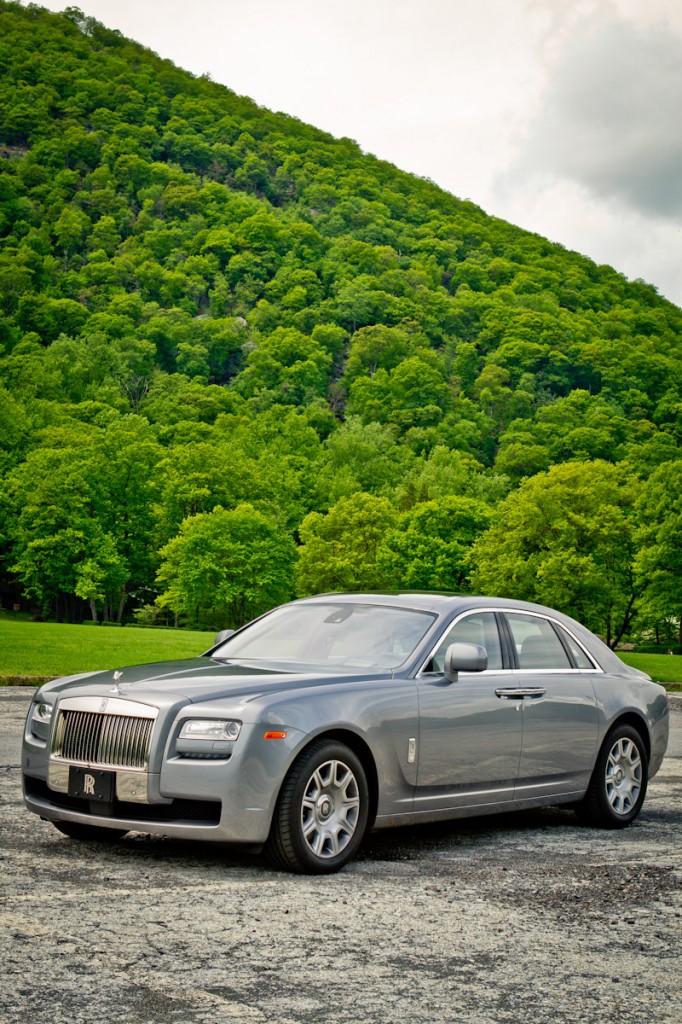 At the end of our drive I was almost foolishly fascinated with how easy the drive was. Having seen almost every Rolls Royce with a driver behind the wheel, and the car itself being of an almost mythical thing the people mostly dream about than experience, I had a crazy notion in the back of my head that this was somehow different to drive than other cars. Different as if chauffeurs had special training and taking the helm of a Rolls Royce was like piloting a plane. No, it's a real, fundamentally normal car, that just so happens to be hand built by 60 craftsmen using fine materials and creating the most luxurious car possible. But now that it's tangible and, relatively speaking, affordable, has it somehow lost something?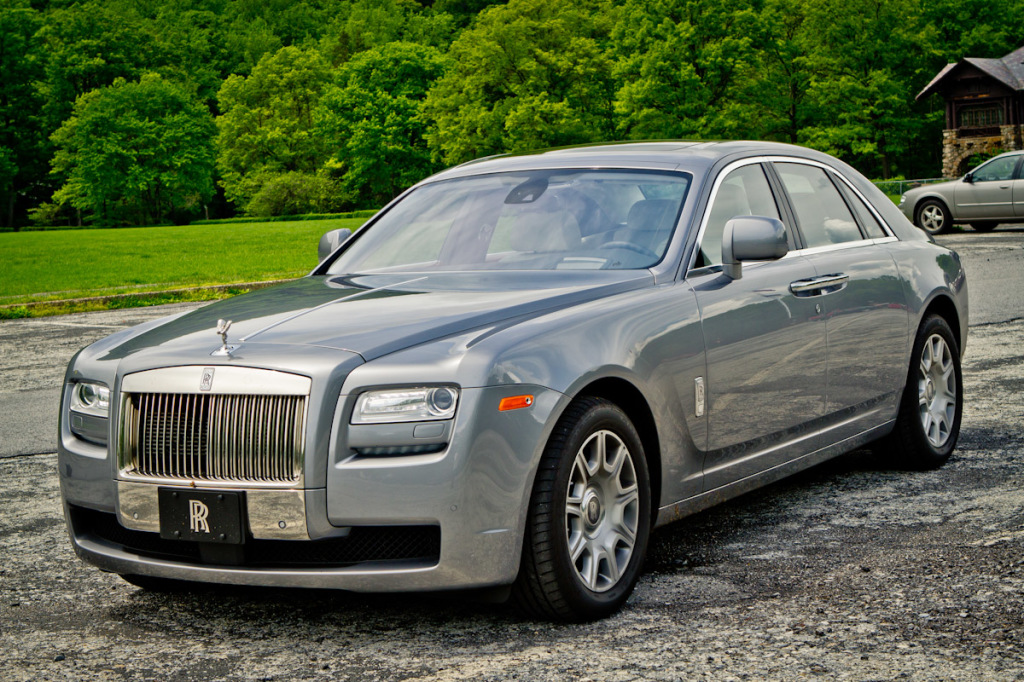 Speaking to the owner of a 1934 Rolls Royce 20/25 Parkward (who, incidentally, makes an appearance in this video), he recanted the sage notion the wise mechanic who maintains his pre-war auto dropped on him: "you are not the owner of this Rolls Royce, you are the temporary caretaker." I can see how his confident statement can ring true for this particular example, a custom built coach that survived the second world war with matching part numbers and in perfect running order, but will they say the same in 75 years regarding the cars of today? If the internet is still around at that time, I hope archivists discover this post and leave a comment. Until then, what I suspect they will say was yes, I remember the Rolls Royce Ghost. I saw it, and it was real.
Words By – Alex Kalogiannis
Photos By – Jon Rouzier