2011 Infiniti M – Pics and Specs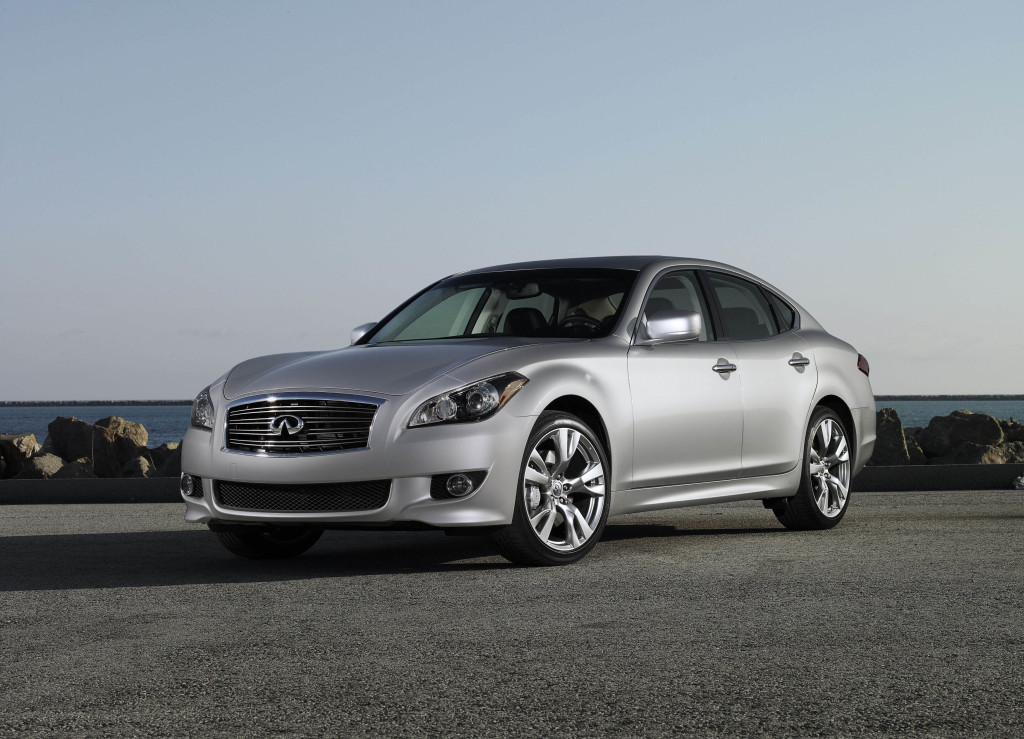 Like the dramatic Infiniti Essence Concept, which served as a blueprint for the new M's designers and engineers, this next-generation M embraces the essence of all things Infiniti – style, performance, luxury, craftsmanship and technology.
"The 2011 Infiniti M embodies all of our best thinking, design and quality to date," said Ben Poore, vice president, Infiniti Business Unit. "It builds on the strengths of the previous generation, delivering a performance luxury experience crafted to a higher standard."
The 2011 Infiniti M will be offered in two designations – M37 and M56. The M37 features a refined 330-horsepower 3.7-liter V6 engine with increased power and fuel economy, a step up from the previous generation M35's 3.5-liter V6. The M56 also offers more power and better fuel economy from an all-new 420-horsepower 5.6-liter V8. Both the M37 and M56 engines feature Infiniti's advanced Variable Valve Event & Lift system (VVEL) and all models are equipped with a standard 7-speed automatic transmission. The M56 engine also utilizes Direct Injection Gasoline (DIG™) technology.
The M37 and M56 are available in both rear-wheel drive and with Infiniti's Intelligent All-Wheel Drive system. A special Sport Package, offered on rear-wheel drive models only, offers 4-wheel Active Steer (4WAS), sport-tuned suspension, Sport Brakes and 20-inch wheels and tires. The 4-Wheel Active Steer (4WAS) system helps provide lower steering effort and agile handling at low/medium speeds and a more stable feel at higher speeds. Depending on the vehicle speed and the steering angle, the rear wheels are steered in-phase with the front wheels.
Infiniti engineers envisioned the all-new M to deliver a more fluid, naturally dynamic performance feeling. The 3.7-liter V6 and 5.6-liter V8 are equipped with the VVEL system, which combines hydraulic-controlled variable valve timing and electronically controlled variable valve lift on the intake side to help improve performance and response. Throttle response is enhanced by directly controlling the intake valve, rather than using the traditional method of controlling intake with the throttle valve. The VVEL system also offers improved emissions and fuel efficiency (over non-VVEL designs) by substantially reducing the intake resistance that occurs when the engine's throttle valve opening is narrowed and output is low.
The M37's 3.7-liter VVEL, 24-valve DOHC aluminum-alloy V6 is rated at 330 hp @ 7,000 rpm, 270 lb-ft of torque @ 5,200 rpm, increases of 27 horsepower and 8 lb-ft of torque versus the previous 3.5-liter V6. The engine also features rigid ladder frame construction, large crank journal and pin diameters, asymmetric piston skirts, twin knock sensors, an electronically controlled "drive-by-wire" throttle system, molybdenum coated lightweight pistons, Iridium spark plugs and a symmetric twin air intake system.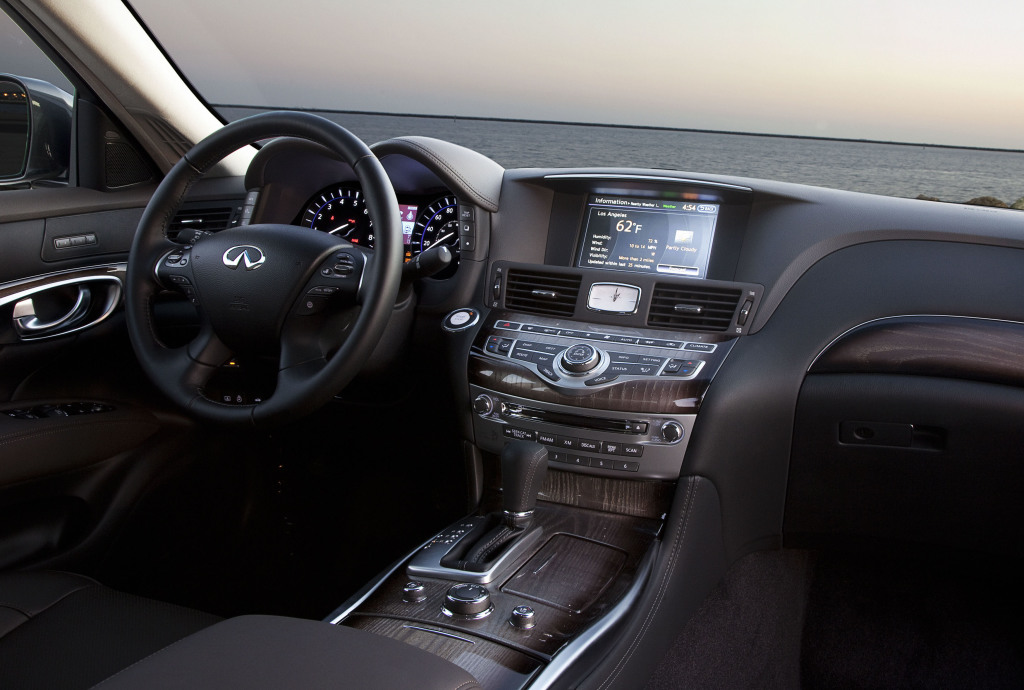 The M56's 5.6-liter VVEL, 32-valve, DOHC, Direct Injection Gasoline (DIG™) aluminum-alloy V8 is rated at 420 hp and 417 lb-ft of torque, increases of 95 horsepower and 81 lb-ft of torque versus the previous 4.5-liter V8.
All 2011 M models come standard with Infiniti's 7-speed automatic transmission with Adaptive Shift Control (ASC) and manual shift mode with Downshift Rev Matching, which meaning the "blips" are done for you.
Estimated fuel economy for the 2011 M is rated at 18 mpg City/26 mpg Highway for the M37 (increases of 1 mpg for both City and Highway) and 17 mpg City/24 mpg Highway for the M37x, increases of 1 mpg and 2 mpg for City and Highway respectively. The M56 is rated at 16 mpg City/25 mpg Highway (an increase of 4 mpg City), while the M56x achieves fuel economy of 16 mpg City and 23 mpg Highway – increases of 2 mpg City and 3 mpg Highway.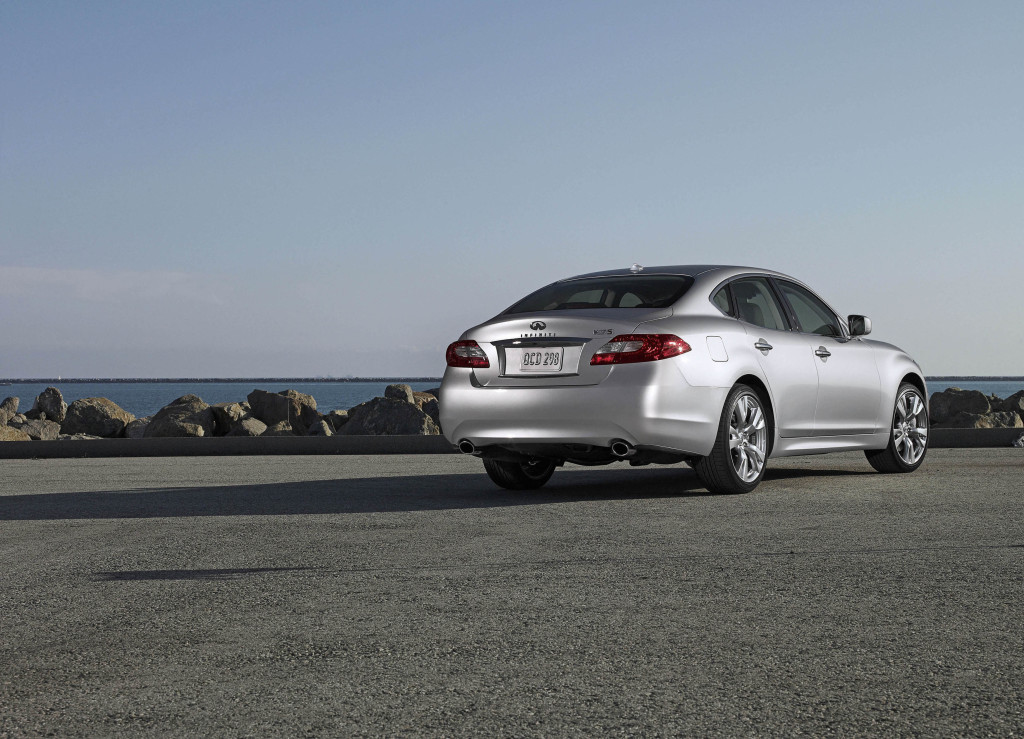 A unique new feature of the 2011 M is Infiniti Drive Mode Selector, an integrated control system that allows drivers to select from four driving modes: Standard, Eco, Sport or Snow, depending on mood or driving conditions. Each mode adjusts throttle sensitivity and transmission mapping to help optimize performance. The Eco mode utilizes green or amber indicators on the instrument panel to provide feedback on driving efficiency. With the available Technology Package, the system also provides feedback directly through the accelerator pedal, giving a slight pushback if driving inefficiently.
The M suspension continues the previous generation's independent double-wishbone design in front and multi-link independent system in the rear, along with front and rear stabilizer bars. The rear suspension geometry has been updated to provide a quieter and improved ride. Every 2011 M utilizes standard 4-wheel power-assisted vented disc brakes (12.6-inch front, 12.1-inch rear) with Anti-lock Braking System (ABS), Electronic Brake force Distribution (EBD) and Brake Assist (BA). The Sport Package includes larger 14.0-inch front/13.8-inch rear rotors with 4-piston front/2-piston rear opposed calipers. All the M's ride on 18 inch wheels as standard, with 20 inch alloys as an available option with the sport package.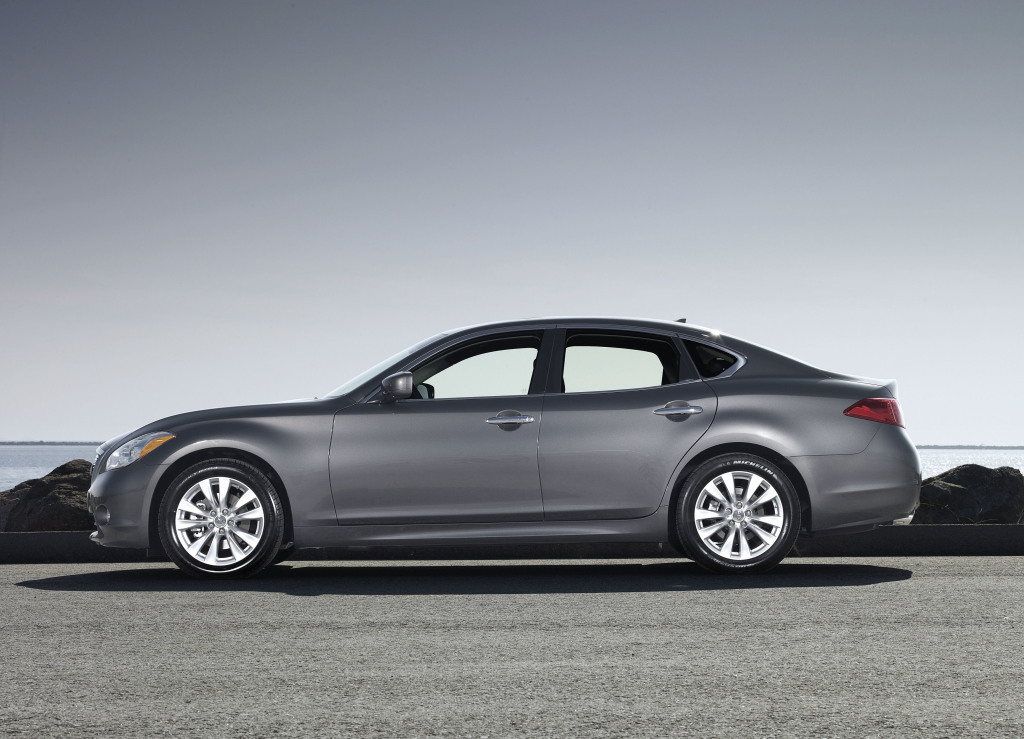 A new Active Trace Control system, included with the Technology Package, helps enhance the transition from braking into and then accelerating out of corners. The system utilizes the M's VDC system to help improve cornering feel by automatically applying the brakes so that load is increased on the front wheels. The system also modulates engine torque to further enhance control.
The Active Trace Control system also applies selective braking to help create increased steering response in S-turns and other steering operations. When Sport mode is engaged (on the Infiniti Drive Mode Selector), the level of braking applied by this feature is reduced.
Prices for the 2011 Infiniti M37 start at $46,250 for the M37 rear-wheel drive and $48,400 for the M37x all-wheel drive. The MSRPs for the 2011 Infiniti M56 start at $57,550 for the M56 rear-wheel drive and $60,050 for the M56x with Infiniti Intelligent All-Wheel Drive.